1915 King George V Local Print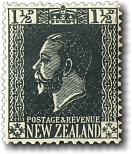 Cat.
Mint Unhinged
Mint Hinged
Fine Used
1½d
Grey Black
31a
$45.00
$25.20
$2.70
Surface printing of the 1½d stamp was introduced during the First World War to reduce costs and because the halfpenny war tax on all mail except newspapers had led to unexpected demand for this value. The original recess printed 1½d stamp had been intended for parcel rates, not standard mail.

The surface printed 1½d stamp was printed using a plate engraved locally by W.R. Bock. However, the stamps were not up to the required standard and were replaced by plates produced by Perkins, Bacon in London along with the 2d and 3d plates in the 'King George V Surface Print' issue.





The local print is very coarsely drawn with a diagonal background pattern and with rather poorly spaced diagonal shading lines on the face and neck. The surface print stamps have a similar background but with horizontal shading on George V's face and neck. The recess print stamps have diagonal shading on George V's face and neck and a very fine and complex pattern of alternating arcs with a criss-cross hatching over the top giving the appearance of almost solid shading.
If you have any questions or comments please contact us - we'd love to hear from you.
This page was last updated on 30 Sep 2023
All content and images copyright © 2008 - 2023 StampsNZ