1934 Trans Tasman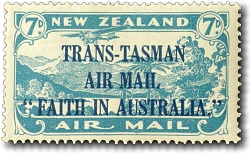 Cat.
Mint Unhinged
Mint Hinged
Fine Used
7d
Blue
48a
$139.50
$67.50
$72.00
First Day Cover - 17 January 1934
48b
$720.00
… 7d (48a)
In 1934 the last airmail stamp in the 1931 Airmail design was printed, this time in blue with TRANS-TASMAN AIR MAIL "FAITH IN AUSTRALIA" over-printed on it.

This stamp was issued for one month to commemorate C.T.P. Ulm's first official trans-Tasman airmail flight from New Zealand to Australia. Only 83 thousand stamps were issued but many were collected.
Bibliography
The Postage Stamps of New Zealand (Volume I)
Edited by R. J. G. Collins and H. T. M. Fathers B.A. B.Sc.
Published 1938 by The Philatelic Society of New Zealand Incorporated
If you have any questions or comments please contact us - we'd love to hear from you.
Wishing you a Merry Christmas and a Happy and Prosperous New Year
This page was last updated on 06 Dec 2023
All content and images copyright © 2008 - 2023 StampsNZ