1958 Queen Elizabeth II Overprints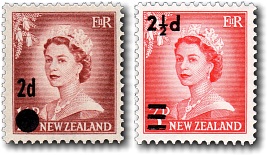 Cat.
Mint Unhinged
Mint Hinged
Fine Used
2d
Overprinted on 1955 1½d Brown
106a
$0.55
$0.45
$0.45
(i) Stars Overprint Error - Overprinted on 1953 1½d Brown
106a1
$292.50
$247.50
$360.00
2½d
Overprinted on 1955 3d Red (Issued 1961)
106b
$0.55
$0.45
$0.45
Set of 2 individual stamps
106c
$1.05
$0.85
$0.85
Early in 1958 the postage rate for printed matter was increased and so the 1½d stamp was withdrawn and surcharged 2d.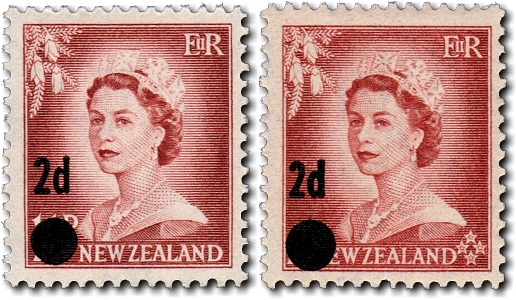 The newer 1½d stamp with large figures had been on sale for two years, but a few sheets of the original 1953 issue were returned and some of these were accidentally surcharged as well. The 'Stars Overprint Error' can be easily detected (on the right in the photograph above) - the incorrectly surcharged stamps have the Southern Cross visible on the bottom right of the stamp.

Given how cheaply the 1953 1½d stamp without overprint can be sourced, collectors should be extremely wary of forgeries. Compare the relative positioning of the obscuring bullet and the text, the character font used and the reflectivity of the ink against the correctly surcharged stamp - they should be identical. The gum side of the stamp should show indentations in the shape of the overprint.

The 2½d surcharge on the 1955 3d red stamp appeared in 1961 after the definitives had been withdrawn and replaced by the 1960 Pictorials. When initially issued there was no 2½d stamp in the 1960 Pictorials issue and after another rise in postage necessitated a new stamp, the 3d stamp which the Post Office still had large stocks of, was overprinted to fill the gap.
Bibliography
The Postage Stamps of New Zealand Volume VI
Edited by D. E. G. Naish FRPSNZ and K. J. McNaught FRPSNZ FRPSL
Publsihed 1975 by The Royal Philatelic Society of New Zealand Incorporated
If you have any questions or comments please contact us - we'd love to hear from you.
This page was last updated on 30 Sep 2023
All content and images copyright © 2008 - 2023 StampsNZ