1960 Christmas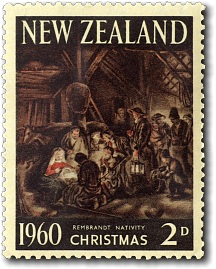 Cat.
Mint Unhinged
Mint Hinged
Fine Used
2d
Nativity - 'The Adoration of the Shepherds' by Rembrandt
117a
$0.55
$0.45
$0.45
First Day Cover - 1 November 1960
117b
$5.40
... 2d (117a)
In 1959 the National Council of Churches and the Bishop of Christchurch requested a special Christmas stamp issue. Approval was given for the following year and the decision was made to print a reproduction of 'The Adoration of the Shepherds' by Rembrandt. Rather than print on white paper, the stamp was printed on toned paper to produce a more authentic rendering of the old master.

New Zealand was one of the first countries to print a special Christmas stamp and concerns were expressed in Parliament that this might lower the prestige of New Zealand in the eyes of philatelists. There was also concern that postmarking the stamps might be considered 'defacement' of a Christian icon. However, the issue proved very popular and over 20 million copies of the stamp were produced.
If you have any questions or comments please contact us - we'd love to hear from you.
This page was last updated on 12 Apr 2021
All content and images copyright © 2008 - 2021 StampsNZ