1973 Christmas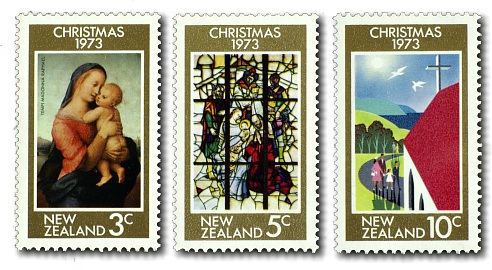 Cat.
Mint Unhinged
Fine Used
3c
'Tempi Madonna' by Raphael
193a
$0.45
$0.45
5c
'Three Kings' Window from St Theresa's, Mt Roskill
193b
$0.45
$0.45
10c
Church on Christmas Day in NZ
193c
$1.35
$1.35
Set of 3 individual stamps
193d
$2.15
$2.15
First Day Cover - 3 October 1973
193e
$2.55
… 3c (193a), 5c (193b), 10c (193c)
The 3 cent stamp features a reproduction of the 'Tempi Madonna', a Renaissance oil painting by Raphael Sanzio. This painting express a strong sentiment of anxious motherhood, enriched by great awareness. The Virgin is holding the Christ Child closely and only has eyes for him. The Child looks at the observer, drawing us into the intimate scene.

The 5 cent stamp features the 'Three Kings' stained glass window from Saint Theresa's Roman Catholic Church in Mount Roskill, Auckland.

The 10 cent stamp shows a contemporary scene of a family going to church on Christmas Day in the summer with flowering Pohutakawa trees in the background and a clear blue sky and intense sun over the ocean.
Bibliography
The Postage Stamps of New Zealand Volume VI
Edited by D. E. G. Naish FRPSNZ and K. J. McNaught FRPSNZ FRPSL
Publsihed 1975 by The Royal Philatelic Society of New Zealand Incorporated
If you have any questions or comments please contact us - we'd love to hear from you.
This page was last updated on 30 Sep 2023
All content and images copyright © 2008 - 2023 StampsNZ