1977 Christmas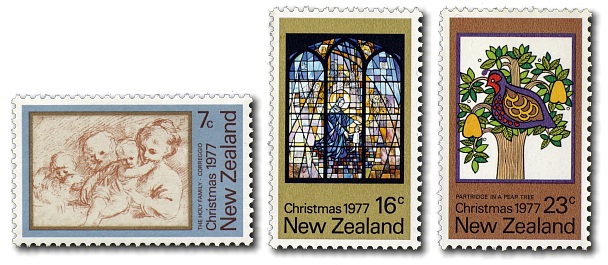 The 7 cent stamp features a preparative drawing of 'The Holy Family' by Italian painter Antonio Allegri Correggio.

The 16 cent stamp features a stained glass window from the Church of Saint Michael and All Angels in Dunedin. The window features an abstract design with the Madonna and Child.

The 23 cent stamp continues the Christmas Carol theme with 'Partridge in a Pear Tree' from 'The Twelve Days of Christmas' - an English Christmas carol which enumerates a series of increasingly grandiose gifts given on each of the twelve days of Christmas.
If you have any questions or comments please contact us - we'd love to hear from you.
This page was last updated on 28 Sep 2020
All content and images copyright © 2008 - 2020 StampsNZ