1978 Coil Stamps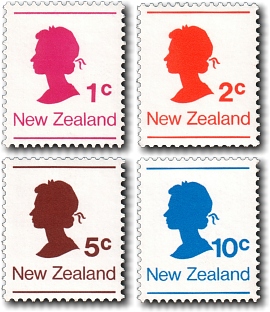 Cat.
Mint Unhinged
Fine Used
1c
Queen Elizabeth II Left Profile Magenta on White
223a
$0.45
$0.45
2c
Queen Elizabeth II Left Profile Orange on White
223b
$0.45
$0.45
5c
Queen Elizabeth II Left Profile Brown on White
223c
$0.45
$0.45
10c
Queen Elizabeth II Left Profile Blue on White
223d
$0.45
$0.45
Set of 4 individual stamps
223e
$1.70
$1.70
First Day Cover - 3 May 1978
223f
$54.00
… 10c (223d)
First Day Cover - 13 June 1978
223g
$5.40
… 1c (223a), 2c (223b), 5c (223c)
The stamps in this issue were created in rolls for coin-in-slot stamp machines and automatic stamp-affixing 'postafix' machines. The 1, 2 and 5 cent stamps were phased out after only five months due to increases in postal rates.
Bibliography
The Postage Stamps of New Zealand Volume VIII
Edited by B. G. Vincent FRPSNZ
Published 1998 by The Royal Philatelic Society of New Zealand Incorporated (ISSN 0-9597883-1-X)
If you have any questions or comments please contact us - we'd love to hear from you.
This page was last updated on 29 Sep 2023
All content and images copyright © 2008 - 2023 StampsNZ