1993 Royal Doulton Ceramics Exhibition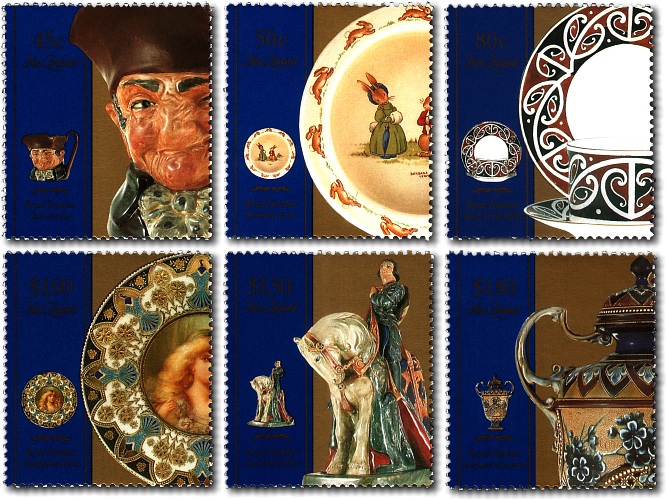 Cat.
Mint Unhinged
Fine Used
45c
Character Jug - Old Charley (1934)
362a
$0.80
$0.75
50c
Bunnykins Plate - The Proposal (1930s)
362b
$0.90
$0.90
80c
Maori Art Tea Ware (1907)
362c
$1.45
$1.35
$1
Handpainted Plate - Ophelia by George White (1903)
362d
$1.80
$1.70
$1.50
Burslem Figurine - Saint George (1950)
362e
$2.70
$2.70
$1.80
Saltglazed Stoneware Vase by Eliza Simmance (1892)
362f
$3.25
$3.05
Set of 6 individual stamps
362g
$10.35
$9.95
$1.80
Exhibition Miniature Sheet with one $1.80 stamp
362h
$3.60
$3.40
… One Stamp : $1.80 (362f)
First Day Cover - 20 January 1993
362i
$9.00
… 45c (362a), 50c (362b), 80c (362c), $1 (362d), $1.50 (362e), $1.80 (362f)
Miniature Sheet First Day Cover - 20 January 1993
362j
$4.50
… $1.80 (362h)
This issue commemorated the 1992 - 1993 Royal Doulton Ceramics Exhibition in New Zealand. The exhibition included over 750 items with over four fifths of the items displayed coming from family collections in New Zealand.

The Royal Doulton Company is one of the most renowned English companies producing tableware and collectables, with a history dating back to 1815. In 1901 King Edward VII granted the Burslem factory the Royal Warrant, which allowed the business to adopt new markings and use the Royal Doulton name.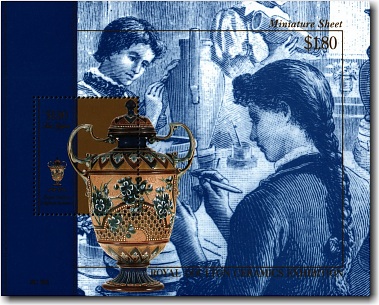 A miniature sheet was issued containing the $1.80 stamp in context.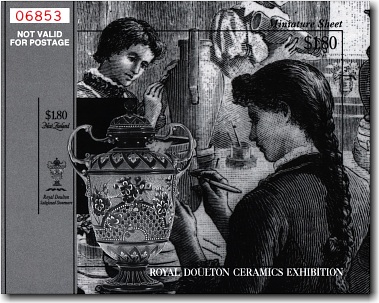 A limited edition imperforate miniature sheet was also printed in black and white.
Bibliography
The Postage Stamps of New Zealand Volume VIII
Edited by B. G. Vincent FRPSNZ
Published 1998 by The Royal Philatelic Society of New Zealand Incorporated (ISSN 0-9597883-1-X)
Pages 224 - 225, 257 - 258
If you have any questions or comments please contact us - we'd love to hear from you.
This page was last updated on 04 Oct 2022
All content and images copyright © 2008 - 2022 StampsNZ