2000 First to see the New Dawn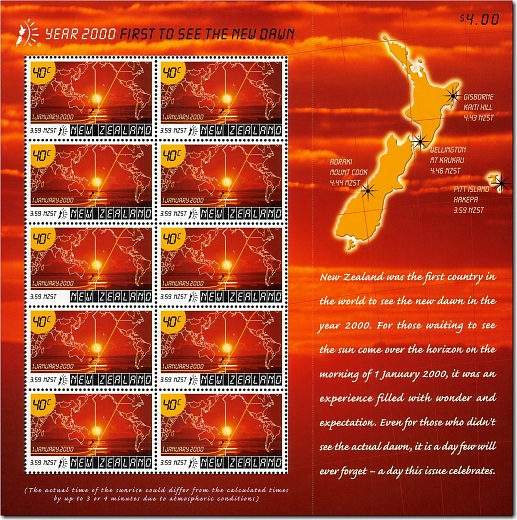 Cat.
Mint Unhinged
Fine Used
40c
First to see the New Dawn
498a
$0.70
$0.70
(i) With New Zealand Millennium Logo Missing
498a1
$9.00
$9.00
$4
Prestige Sheet with ten 40 cent stamps
498b
$9.00
$9.00
$2.40
Limited Edition Miniature Sheet with six 40 cent stamps (15,000 unnumbered copies) from the Millennium Collection issued January 2000
498c
$45.00
... Six Stamps : 40c (498a x 6)
First Day Cover - 1 January 2000
498d
$4.50
... 40c (498a)
Miniature Sheet First Day Cover - 1 January 2000
498e
$36.00
... $4 (498b)
This stamp was issued to commemorate the first dawn of the millennium from Pitt Island in the Chathams which is part of New Zealand's territory.

This was the first New Zealand stamp to be micro-printed and was issued in sheets of 50 and also a miniature sheet of 10 stamps. A printing error on the miniature sheets led to the New Zealand Millennium Logo being omitted from the first stamp in the third row. This stamp is listed as a variety.
The resolution of the above image has been reduced to improve page load times on our web site. The original high resolution image is included in our Catalogue of New Zealand Stamps on CD-ROM or USB Flash Drive. If you have any questions or comments please contact us - we'd love to hear from you.
This page was last updated on 17 Jul 2019
All content and images copyright © 2008 - 2019 StampsNZ