2008 90th Anniversary of World War I Armistice Treaty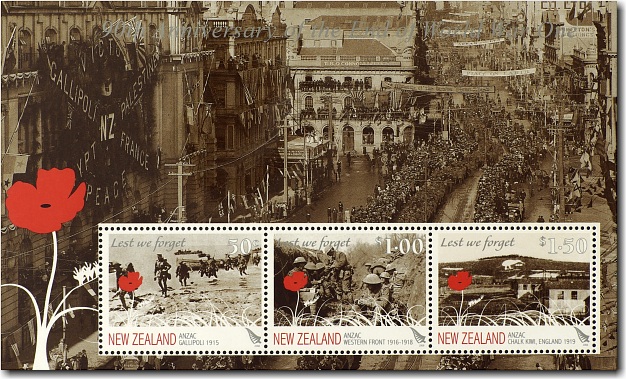 Cat.
Mint Unhinged
Fine Used
$3
Miniature Sheet with one 50 cent, one $1 and one $1.50 stamp
660a
$9.00
$9.00
… Three Stamps : 2008 The ANZAC Series: Stories of Nationhood 50c (650a), $1 (650c), $1.50 (650d)
Miniature Sheet First Day Cover - 20 October 2008
660b
$13.50
… $3 (660a)
New Zealand Post issued a special miniature sheet to commemorate the 90th anniversary of the cessation of World War I hostilities on the Western Front. This miniature sheet features stamps from the 2008 The ANZAC Series: Stories of Nationhood issue.

The armistice treaty between the Allies and Germany was signed in a railway carriage in Compiegne Forest on the 11th of November 1918, and marked the end of the First World War on the Western Front. Principal signatories were Marshal Ferdinand Foch, the Allied Commander-in-chief, and Matthias Erzberger, Germany's representative. The Armistice was agreed at 5am to come into effect at 11am - the "eleventh hour of the eleventh day of the eleventh month".

While this official date to mark the end of the war reflects the cease fire on the Western Front, hostilities continued in other regions, especially across the former Russian Empire and in parts of the old Ottoman Empire.
If you have any questions or comments please contact us - we'd love to hear from you.
Wishing you a Merry Christmas and a Happy and Prosperous New Year
This page was last updated on 07 Dec 2023
All content and images copyright © 2008 - 2023 StampsNZ