1909 King Edward VII Official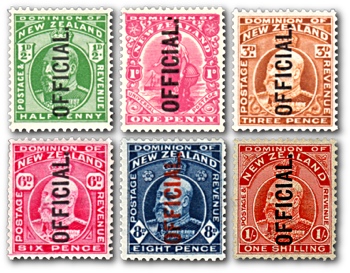 The new penny 'Dominion' stamp and several of the King Edward VII stamps were overprinted 'official' for use by government departments.

Mint stamps marked 'Official' were not "officially" allowed to be sold mint to collectors until 1913 and this is one reason why mint copies are rarer.
If you have any questions or comments please contact us - we'd love to hear from you.
This page was last updated on 21 Oct 2021
All content and images copyright © 2008 - 2021 StampsNZ