1913 Auckland Exhibition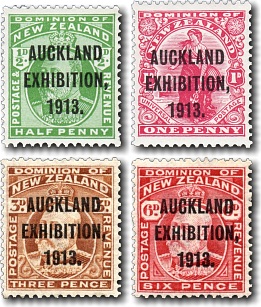 Cat.
Mint Unhinged
Mint Hinged
Fine Used
½d
Green Edward VII Overprinted
26a
$76.50
$45.00
$54.00
1d
Red Dominion Overprinted
26b
$90.00
$54.00
$67.50
3d
Brown Edward VII Overprinted
26c
$855.00
$405.00
$630.00
6d
Red Edward VII Overprinted
26d
$900.00
$504.00
$765.00
Set of 4
26e
$1,825.45
$957.60
$1,440.70
First Day Cover - 1 December 1913
26f
$10,800.00
Encouraged by the success of the Christchurch Exhibition seven years earlier, the 'Auckland Industrial, Agricultural and Mining Exhibition' was held between the 1st of December 1913 and the 18th of April 1914. Unlike the Christchurch Exhibition, however, the issue of commemorative stamps was an afterthought.

On the 29th of October 1913, the Auckland Philatelic Society wrote to the Postmaster-General suggesting the overprints. This was hastily approved and on the 11th of November the Government Printer was instructed to overprint 'AUCKLAND EXHIBITION, 1913' on four of the Edward VII definitives. There was insufficient time to inform the Universal Postal Union of the issue, and so the stamps were only valid for postage within New Zealand.

Few stamps were printed and even then, a large number were left unsold at the end of the exhibition and destroyed, making the 3d and 6d the scarcest New Zealand commemoratives.
Bibliography
The Postage Stamps of New Zealand (Volume I)
Edited by R. J. G. Collins and H. T. M. Fathers B.A. B.Sc.
Published 1938 by The Philatelic Society of New Zealand Incorporated
If you have any questions or comments please contact us - we'd love to hear from you.
Wishing you a Merry Christmas and a Happy and Prosperous New Year
This page was last updated on 06 Dec 2023
All content and images copyright © 2008 - 2023 StampsNZ