1944 Sovereigns Provisional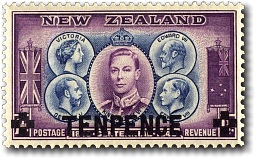 Cat.
Mint Unhinged
Mint Hinged
Fine Used
10d
On 1½d Sovereigns
75a
$0.90
$0.45
$2.70
First Day Cover - 1 May 1944
75b
$72.00
… 10d (75a)
Large remaining stocks of the 1½d Sovereigns stamp from 1940 were surcharged 10d to cover the rate for the newly introduced airgraph service.

The airgraph service photographed large amounts of mail and reduced it to thumb-nail size images on reels of microfilm. These reels were then shipped saving valuable cargo space for war materials. The system also eliminated the threat of spies using microdots or invisible ink to send reports as any microdots would not be photographed with sufficient resolution to be read.

Once the reels arrived in the recipient's country they were developed and printed on lightweight photo paper about one quarter of their original size and delivered to the addressee.
Bibliography
The Postage Stamps of New Zealand Volume II
Edited by R. J. G. Collins FRPSNZ and C. W. Watts FRPSNZ
Published 1950 by The Royal Philatelic Society of New Zealand Incorporated
If you have any questions or comments please contact us - we'd love to hear from you.
Wishing you a Merry Christmas and a Happy and Prosperous New Year
This page was last updated on 09 Dec 2023
All content and images copyright © 2008 - 2023 StampsNZ