From the late 1940s, James Berry had proposed that Official Government stamps should have their own design - along the lines of the Government Life Insurance issues. James produced sample designs featuring native flowers and eventually the New Zealand Post Office agreed but opted for a simple design featuring the Queen's head. This made the 1954 Official issue unique as the only issue designed specifically for government department use. All previous Official stamps were over-prints of the then current definitive or pictorial issue and this was the last New Zealand Official issue. Stamps for general official purposes ceased altogether when this issue was withdrawn in March 1965.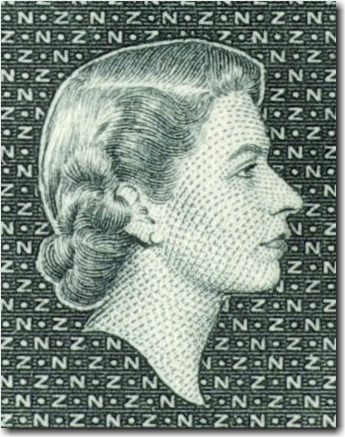 The stamps feature a side portrait of Queen Elizabeth II against a background pattern of the letters 'NZ'. Close examination reveals James Berry's skill as a master stamp designer and engraver.
The three shilling stamp, which was used for parcels and the issuing of summonses, was only on sale for two years and is relatively scarce.