1961 Christmas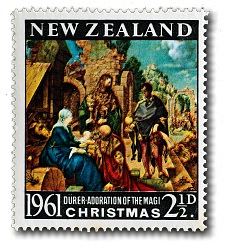 Cat.
Mint Unhinged
Mint Hinged
Fine Used
2½d
'The Adoration of the Magi' by Albrecht Durer
119a
$0.55
$0.45
$0.45
First Day Cover - 16 October 1961
119b
$4.50
... 2½d (119a)
Following the success of the first Christmas issue in 1960, a second Christmas stamp was issued in 1961. This stamp features 'The Adoration of the Magi' by Albrecht Durer.

Before the feast of Christmas was celebrated, the coming of the three wise men was a great Church festival. Their visit to Bethlehem was important because it was the first time that Jesus was shown to people outside the village. The wise men were thought to represent all mankind. In early art they appear as a young, middle-aged and old man. By the fifteenth century they are also of three races. Since they came from the East - a region of great riches - they are robed in silks and attended by turbaned servants, hunting dogs, and pet monkeys. Eventually people came to think of them as kings, so they appear wearing jeweled crowns.

The stamp was issued in mid October so that it was available before the cutoff date for overseas Christmas postage.
If you have any questions or comments please contact us - we'd love to hear from you.
This page was last updated on 21 Oct 2021
All content and images copyright © 2008 - 2021 StampsNZ