1965 Christmas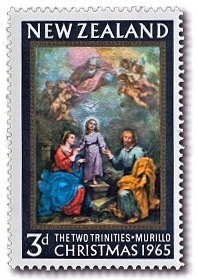 Cat.
Mint Unhinged
Mint Hinged
Fine Used
3d
'The Two Trinities' by Murillo.
137a
$0.55
$0.45
$0.55
First Day Cover - 11 October 1965
137b
$4.50
... 3d (137a)
1965 marked a return to the old masters theme featuring 'The Heavenly and Earthly Trinities (The Pedroso Murillo)' by Bartolome Esteban Murillo.

The subject of the painting is comparatively rare, derived from the Gospel episode of the return of Jesus from the Temple with Mary and Saint Joseph. The three figures form an 'earthly' trinity while the dove and the figure of God the Father form the 'heavenly' Trinity.
If you have any questions or comments please contact us - we'd love to hear from you.
This page was last updated on 29 Nov 2021
All content and images copyright © 2008 - 2021 StampsNZ