1968 Christmas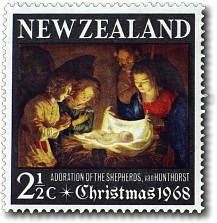 Cat.
Mint Unhinged
Fine Used
2½c
Adoration of the Child
155a
$0.45
$0.45
First Day Cover - 1 October 1968
155b
$5.40
… 2½c (155a)
The 1968 Christmas stamp features the central detail from 'Adoration of the Child' by Gherardo van Honthorst. "Adoration of the Shepherds" is printed on the stamp but this is not the correct title of this work. 'Adoration by the Shepherds' is actually a different but similar painting by this artist.
Bibliography
The Postage Stamps of New Zealand Volume VI
Edited by D. E. G. Naish FRPSNZ and K. J. McNaught FRPSNZ FRPSL
Publsihed 1975 by The Royal Philatelic Society of New Zealand Incorporated
If you have any questions or comments please contact us - we'd love to hear from you.
This page was last updated on 30 Sep 2023
All content and images copyright © 2008 - 2023 StampsNZ