1971 Health

Cat.
Mint Unhinged
Fine Used
3c
Girls Hockey
178a
$0.45
$0.45
4c
Boys Hockey
178b
$0.45
$0.45
5c
Golden Jubilee of New Zealand School Dental Service
178c
$0.90
$0.90
Set of 3
178d
$1.70
$1.70
24c
Miniature Sheet with six 3 cent stamps (Surcharged for health)
178e
$61.20
$61.20
… Six Stamps : 3c (178a x 6)
30c
Miniature Sheet with six 4 cent stamps (Surcharged for health)
178f
$61.20
$61.20
… Six Stamps : 4c (178b x 6)
First Day Cover - 4 August 1971
178g
$4.50
… Three Stamps : 3c (178a), 4c (178b), 5c (178c)
The sports theme was continued in the 1971 health stamps with Hockey chosen - the 10th International Federation of Women's Hockey Association's conference and tournament was hosted in New Zealand that year.

A third stamp was added to commemorate the Golden Jubilee of the New Zealand School Dental Service. The New Zealand School Dental Service was the first of its kind in the world with Australia and Sweden later instigating similar programmes. Dental nurses were equipped to do simple operative dentistry including cavity preparation and fillings and 98% of school children used these free facilities. The service still operates today.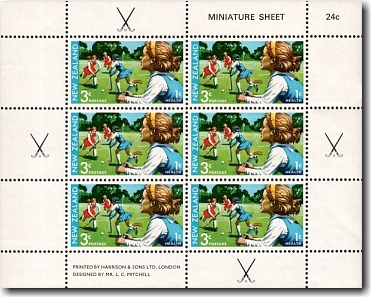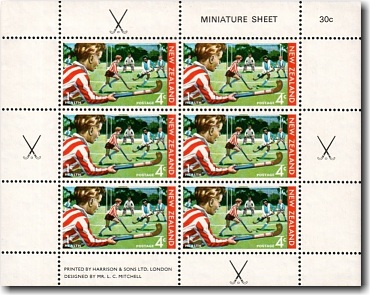 The three and four cent stamps were issued in miniature sheets and fewer than one half the number of five cent stamps were printed as five cents was not so common a postage rate.
Bibliography
The Postage Stamps of New Zealand Volume VI
Edited by D. E. G. Naish FRPSNZ and K. J. McNaught FRPSNZ FRPSL
Publsihed 1975 by The Royal Philatelic Society of New Zealand Incorporated
If you have any questions or comments please contact us - we'd love to hear from you.
Wishing you a Merry Christmas and a Happy and Prosperous New Year
This page was last updated on 02 Dec 2023
All content and images copyright © 2008 - 2023 StampsNZ