1988 Green Round Kiwi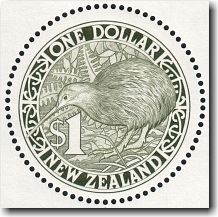 Cat.
Mint Unhinged
Fine Used
$1
Green Round Kiwi
308a
$4.05
$4.05
$6
Booklet of six $1 stamps
308b
$22.50
… Six Stamps : $1 (308a x 6)
First Day Cover - 19 October 1988
308c
$4.25
… $1 (308a)
Silk First Day Cover - 19 October 1988
308d
$13.50
… $1 (308a)
New Zealand's first circular postage stamp was issued on the 19th of October 1988. The one dollar stamp features a Kiwi in it's natural environment recess printed in green. The Maori motif around the border represents the flower of the Kowhai tree - which symbolises the continuous cycle of life.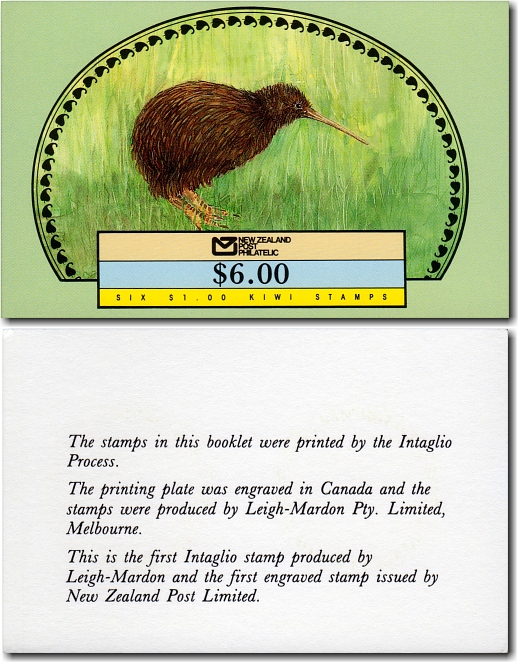 The Round Kiwi stamp was issued in booklets of six stamps as illustrated above, and has subsequently been reissued many times in different colours and denominations.
Bibliography
The Postage Stamps of New Zealand Volume VIII
Edited by B. G. Vincent FRPSNZ
Published 1998 by The Royal Philatelic Society of New Zealand Incorporated (ISSN 0-9597883-1-X)
Pages 127, 137 - 138, 211, 440 - 441
If you have any questions or comments please contact us - we'd love to hear from you.
Wishing you a Merry Christmas and a Happy and Prosperous New Year
This page was last updated on 06 Dec 2023
All content and images copyright © 2008 - 2023 StampsNZ