1997 Centenary of Pigeon Post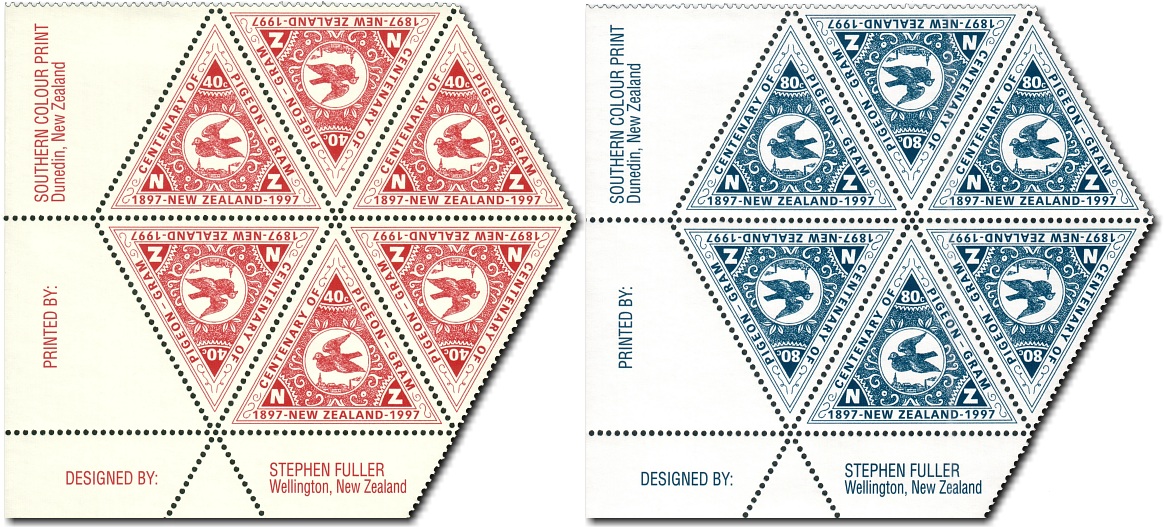 Cat.
Mint Unhinged
Fine Used
40c
Centenary of the Pigeongram - Carmine Red (1 shilling)
444a
$1.15
$1.15
80c
Centenary of the Pigeongram - Blue Grey (6 pence)
444b
$2.25
$2.25
Set of 2 individual stamps
444c
$3.25
$3.25
Se-tenant Pair of two 40 cent stamps - tête-bêche (upright / inverted)
444d
$2.25
$2.25
… Two Stamps : 40c (444a x 2)
Se-tenant Pair of two 80 cent stamps - tête-bêche (upright / inverted)
444e
$4.50
$4.50
… Two Stamps : 80c (444b x 2)
First Day Cover - 7 May 1997
444f
$4.25
… 40c (444a), 80c (444b)
Pigeon Post services were run by two independent companies operating from Great Barrier Island to Auckland and back again - the first regular airmail service in the world. 'The Great Barrier Pigeongram Agency' pioneered the use of pigeons to transport mail 100km across the Hauraki Gulf from Great Barrier Island to Auckland and after several trials in 1896, were the first to establish a service in 1897. 'The Original Great Barrier Pigeongram Service' which started up in competition, were the first to issue special stamps for prepaid pigeongram postage in 1898.

'The Great Barrier Pigeongram Agency' issued their own distinctive triangular stamps in 1899 charging 6d from Great Barrier Island to Auckland and 1/- from Auckland back to the Island. The return trip cost twice the price because of the difficulty training birds to return to the island. The triangular stamps which are reproduced in this issue were designed by Maori war veteran H. C. Wrigg (who won the coveted New Zealand Cross for bravery) and were printed by The Auckland Star.

Messages were written on very lightweight paper so as not to weigh the poor birds down on their flight and a stamp was attached. On arrival in Auckland, the message would either be delivered in person or posted via the Post Office if the recipient lived further away. In one case, a medical emergency on Great Barrier Island involving an acute case of appendicitis was remedied by a pigeongram calling for the weekly boat to come early to ferry the afflicted individual to Auckland Hospital - thereby almost certainly saving their life.

The service was later extended to Marotiri Island but was discontinued when an underwater telegraph cable was laid in 1907.
Bibliography
The Postage Stamps of New Zealand Volume X
Edited by B.G. Vincent FRPSNZ
Published 2013 by The Royal Philatelic Society of New Zealand Incorporated (ISBN 978-0-9876534-3-7)
If you have any questions or comments please contact us - we'd love to hear from you.
This page was last updated on 30 Sep 2023
All content and images copyright © 2008 - 2023 StampsNZ