2000 Sydney Olympic Games and Sporting Pursuits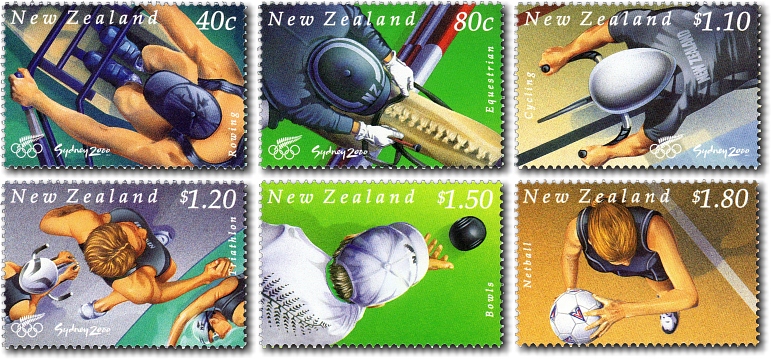 Cat.
Mint Unhinged
Fine Used
40c
Rowing
508a
$0.70
$0.70
80c
Equestrian
508b
$1.45
$1.45
$1.10
Cycling
508c
$2.00
$2.00
$1.20
Triathlon
508d
$2.15
$2.15
$1.50
Bowls
508e
$2.70
$2.70
$1.80
Netball
508f
$3.25
$3.25
Set of 6
508g
$11.65
$11.65
First Day Cover - 4 August 2000
508h
$11.05
… Six Stamps : 40c (508a), 80c (508b), $1.10 (508c), $1.20 (508d), $1.50 (508e), $1.80 (508f)
Olymphilex Exhibition First Day Cover - 4 August 2000
508i
$6.40
… Four Stamps : 40c (508a), 80c (508b), $1.10 (508c), $1.20 (508d)
Major errors in the placement of the vertical perforations are known in all stamp values in this issue. This results in New Zealand and the stamp value being found at the bottom rather than the top of each stamp, except in the bottom row where both are completely missing.

The Olympic logo, "Sydney 2000" and the New Zealand Post fern motif were deliberately omitted from the bottom of the $1.50 and $1.80 stamps. Netball, although recognised by the IOC, is not contested at Olympic games. Bowling was demonstrated at the 1988 Olympic games but has never been included on the official Olympic program.
Bibliography
The Postage Stamps of New Zealand Volume X
Edited by B.G. Vincent FRPSNZ
Published 2013 by The Royal Philatelic Society of New Zealand Incorporated (ISBN 978-0-9876534-3-7)
If you have any questions or comments please contact us - we'd love to hear from you.
Wishing you a Merry Christmas and a Happy and Prosperous New Year
This page was last updated on 09 Dec 2023
All content and images copyright © 2008 - 2023 StampsNZ