2001 Health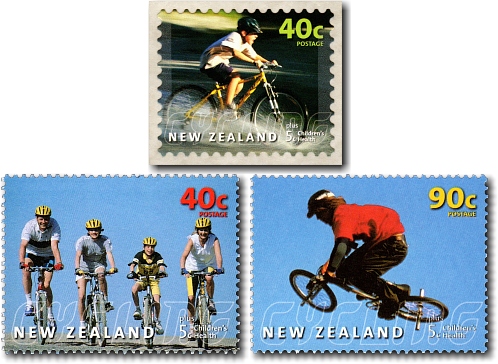 Cat.
Mint Unhinged
Fine Used
40c
Family Time Cycling
526a
$1.15
$1.15
90c
Catching Air / BMX
526b
$2.70
$2.70
40c
Out Riding / Mountian Biking (Self Adhesive)
526c
$1.15
$1.15
Set of 3
526d
$4.75
$4.75
$1.40
Circular Miniature Sheet with one 40 cent and one 90 cent stamp (Surcharged for health)
526e
$3.60
$3.60
... Two Stamps : 40c (526a), 90c (526b)
$4.50
Sheetlet of ten 40 cent stamps (Surcharged for health)
526f
$8.10
... Ten Stamps : 40c (526a x 10)
First Day Cover - 1st August 2001
526g
$4.95
... 40c (526a), 90c (526b), 40c (526c)
Miniature Sheet First Day Cover - 1st August 2001
526h
$3.85
... $1.40 (526e)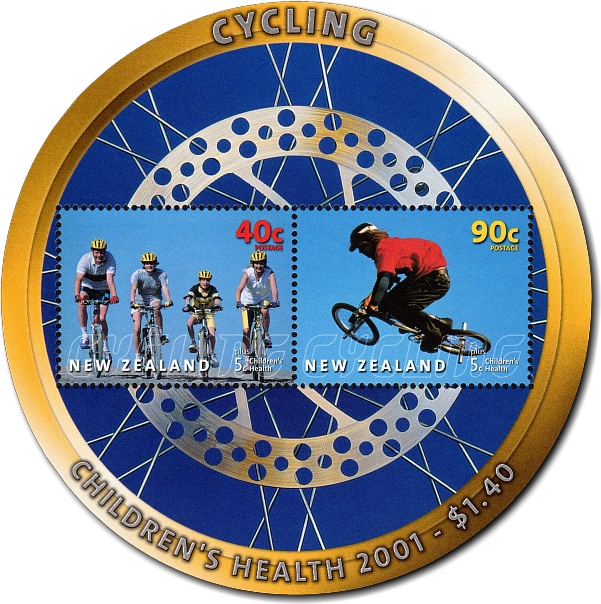 A circular miniature sheet was issued featuring the two gummed stamps.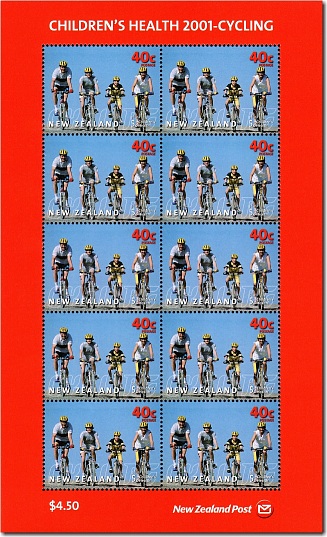 In addition to the miniature sheet, sheetlets of ten of the 40 cent gummed stamp were also issued.
The resolution of some images on this page has been reduced to improve page load times on our web site. If you have any questions or comments please contact us - we'd love to hear from you.
This page was last updated on 13 Jun 2021
All content and images copyright © 2008 - 2021 StampsNZ