2002 Architectural Heritage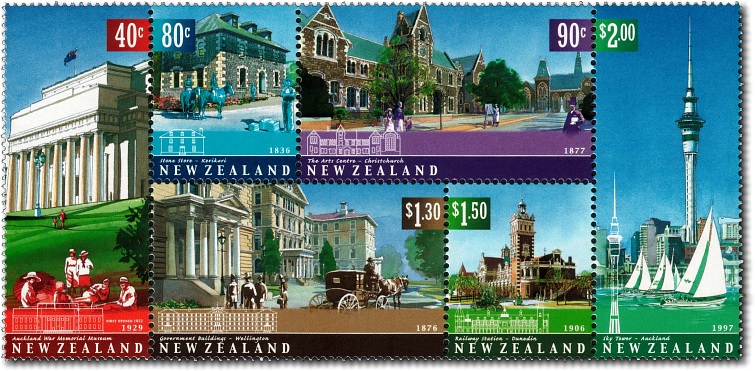 Cat.
Mint Unhinged
Fine Used
40c
Auckland War Memorial Museum, Auckland
534a
$0.70
$0.70
80c
Stone Store, Kerikeri
534b
$1.45
$1.45
90c
The Arts Centre, Christchurch
534c
$1.60
$1.60
$1.30
Government Buildings, Wellington
534d
$2.35
$2.35
$1.50
Railway Station, Dunedin
534e
$2.70
$2.70
$2
Sky Tower, Auckland
534f
$3.60
$3.60
Set of 6 individual stamps
534g
$11.80
$11.80
Se-tenant Block of one 40 cent, one 80 cent, one 90 cent, one $1.30, one $1.50 and one $2 stamp
534h
$12.60
$12.60
... Six Stamps : 40c (534a), 80c (534b), 90c (534c), $1.30 (534d), $1.50 (534e), $2 (534f)
$16.95
Prestige Booklet with seven Miniature Sheets
534i
$31.50
First Day Cover - 3 April 2002
534j
$12.60
... Se-tenant Block (534h)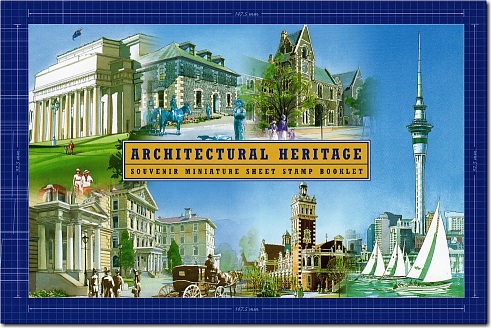 A miniature sheet booklet was also issued with six miniature sheets, each including one of the stamps and a seventh including all six.
Bibliography
The Postage Stamps of New Zealand Volume X
Edited by B.G. Vincent FRPSNZ
Published 2013 by The Royal Philatelic Society of New Zealand Incorporated (ISBN 978-0-9876534-3-7)
Pages 225 - 227, 544 - 546
The resolution of some images on this page has been reduced to improve page load times on our web site. If you have any questions or comments please contact us - we'd love to hear from you.
This page was last updated on 18 May 2022
All content and images copyright © 2008 - 2022 StampsNZ