1939 Express Delivery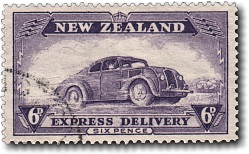 Cat.
Mint Unhinged
Mint Hinged
Fine Used
6d
Chrysler Coupe Car
65a
$8.10
$5.40
$9.00
First Day Cover - 16 August 1939
65b
$540.00
... 6d (65a)
In 1939 a new stamp was designed for express delivery featuring a Chrysler Coupe - which was then in use in the major centres for delivering express mail.

Of the 240 thousand copies of the stamp printed, over half were printed for collectors after the service was cancelled in December 1941 due to wartime considerations. This explains why the stamp is rarer in used than mint condition.
If you have any questions or comments please contact us - we'd love to hear from you.
This page was last updated on 13 Apr 2021
All content and images copyright © 2008 - 2021 StampsNZ