1940 Overprinted Arms Postal Fiscals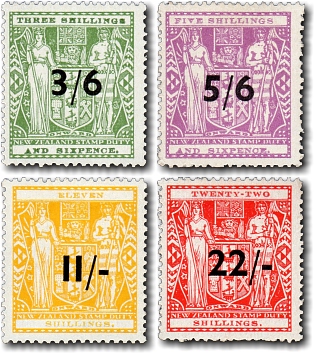 With so many similarly coloured stamps with the same design, there were many cases of denominations getting mixed up. To solve this problem, in 1940 several of the higher valued stamps were overprinted with their value in black.

Although all values were authorised for postal use, the 35 shilling surcharge was not typically used for postage. For simplicity, this catalogue lists only those stamps that were postally used on a regular basis.
If you have any questions or comments please contact us - we'd love to hear from you.
This page was last updated on 21 Oct 2021
All content and images copyright © 2008 - 2021 StampsNZ