1959 Red Cross Concept Centenary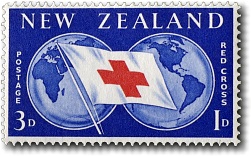 Cat.
Mint Unhinged
Mint Hinged
Fine Used
3d
World Map and Red Cross Flag
112a
$0.55
$0.45
$0.45
First Day Cover - 3 June 1959
112b
$3.60
… 3d (112a)
While other countries issued commemorative Red Cross Centenary issues in 1963, New Zealand issued a commemorative marking the centenary of the birth of the idea of the Red Cross four years earlier with a charity stamp that donated one penny to the Red Cross. The reason for this was fairly straightforward - in 1959 the Red Cross needed funds urgently and used considerable political pressure to get permission for the stamp approved.

In June 1859, the Swiss businessman Henry Dunant traveled to Italy to meet French emperor Napoléon III with the intention of discussing difficulties conducting business in Algeria. When he arrived in the small town of Solferino on the evening of June 24, he witnessed the Battle of Solferino, an engagement in the Austro-Sardinian War. In a single day, about 40,000 soldiers on both sides died or were left wounded on the field. Henry Dunant was shocked by the terrible aftermath of the battle, the suffering of the wounded soldiers, and the near-total lack of medical attendance and basic care. He completely abandoned the original intent of his trip and for several days devoted himself to helping with the treatment and care of the wounded. He organised an overwhelming level of relief assistance by motivating the local population to aid without discrimination.

Back in his home in Geneva, Henry Dunant decided to write a book about his experiences which he published and sent copies to leading political and military figures throughout Europe. In addition to recounting his experiences, he advocated the formation of national voluntary relief organisations to help nurse wounded soldiers in the case of war. He also called for international treaties to guarantee the protection of neutral medics and field hospitals for soldiers wounded on the battlefield.

The International Red Cross and Red Crescent Movement, founded in 1863, is an international humanitarian movement whose stated mission is to protect human life and health, to ensure respect for the human being, and to prevent and alleviate human suffering, without any discrimination based on nationality, race, religious beliefs, class or political opinions. The movement consists of several distinct but affiliated organisations that are legally independent from each other, but are united within the Movement through common basic principles, objectives, symbols, statutes, and governing organs.
Bibliography
The Postage Stamps of New Zealand Volume IV
Edited by R. J. G. Collins FRPSNZ and C.W. Watts FRPSNZ
Published 1960 by The Royal Philatelic Society of New Zealand Incorporated
If you have any questions or comments please contact us - we'd love to hear from you.
Wishing you a Merry Christmas and a Happy and Prosperous New Year
This page was last updated on 06 Dec 2023
All content and images copyright © 2008 - 2023 StampsNZ