1994 Mount Cook Definitive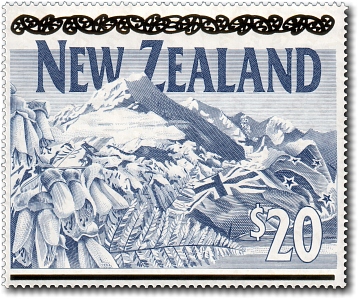 Cat.
Mint Unhinged
Fine Used
$20
Mount Cook Definitive
378a
$36.00
$34.00
(i) Reprint overprinted 'Specimen' from the 2009 Timpex Stamp Exhibition miniature sheet
378a1
$11.70
First Day Cover - 18 February 1994
378b
$34.00
… $20 (378a)
This is New Zealand's largest and highest valued stamp. It is also one of the most controversial as many stamp collectors believe that rather than responding to demand for a high value postage stamp for documents and parcels, the stamp was a ploy to fleece collectors.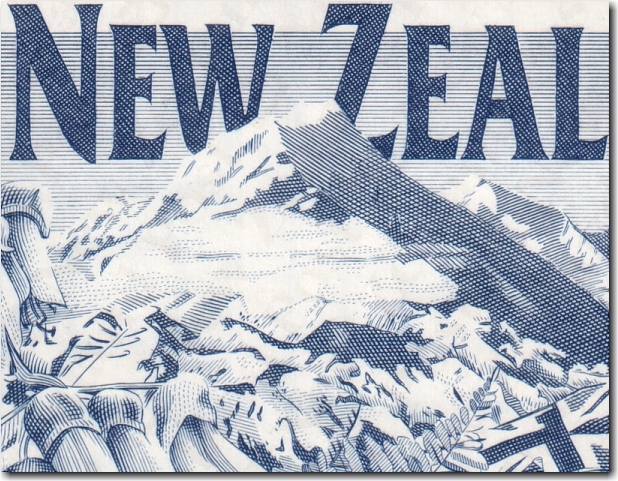 Recess printed in a dull blue with gold leaf embossing, this design incorporates several New Zealand icons - Mt Cook, the native Ponga fern and the Kowhai tree flower. A Maori rafter pattern in gold leaf borders at the top while the New Zealand flag is also woven into the engraving.

The same stamp design printed by offset lithography, pre-cancelled and overprinted 'SPECIMEN' was included in the 2009 Timpex Stamp Exhibition miniature sheet.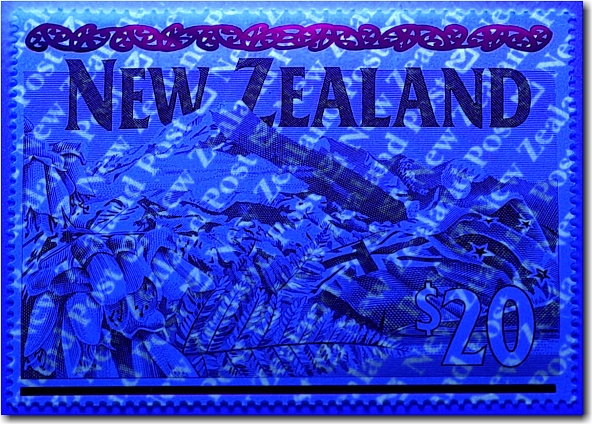 The stamp was printed on water-marked paper with a special fluorescent surface printed security pattern as shown in the above photograph which is visible under long wave (around 420 nanometre) ultraviolet light.
Bibliography
The Postage Stamps of New Zealand Volume VIII
Edited by B. G. Vincent FRPSNZ
Published 1998 by The Royal Philatelic Society of New Zealand Incorporated (ISSN 0-9597883-1-X)
Pages 132 - 133, 138 - 139
If you have any questions or comments please contact us - we'd love to hear from you.
Wishing you a Merry Christmas and a Happy and Prosperous New Year
This page was last updated on 02 Dec 2023
All content and images copyright © 2008 - 2023 StampsNZ