2009 Timpex Stamp Exhibition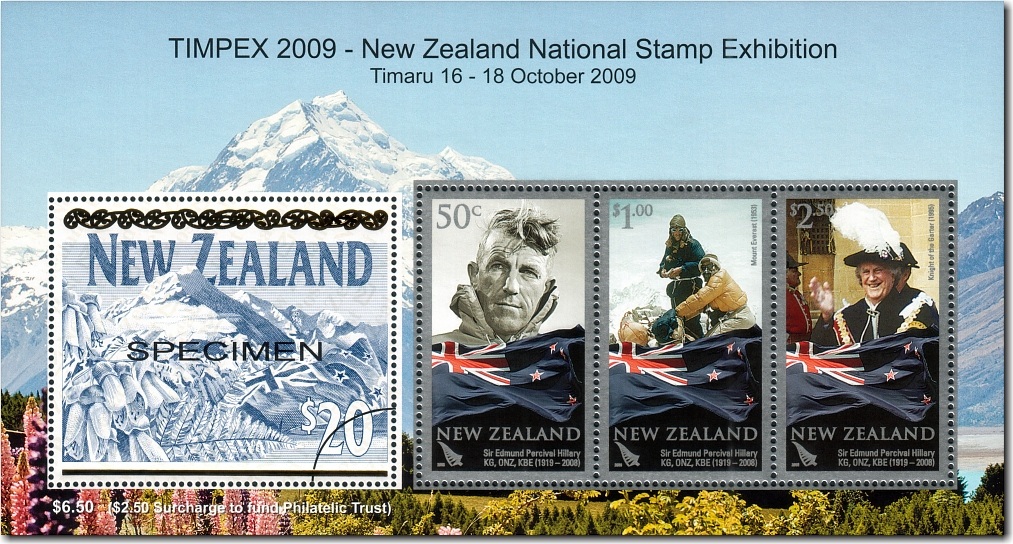 Cat.
Mint Unhinged
Fine Used
$6.50
Sir Edmund Hillary Exhibition Miniature Sheet with one $20, one 50 cent, one $1 and one $2.50 stamp (Surcharged to fund Philatelic Trust for hobby support) - the $20 stamp was voided
680a
$13.50
$13.50
… Four Stamps : 1994 Mount Cook Definitive $20 (378a1); 2008 Sir Edmund Hillary 50c (661a2), $1 (661b2), $2.50 (661e2)
Miniature Sheet First Day Cover - 16 October 2009
680b
$14.40
… $6.50 (680a)
Timpex, the 2009 New Zealand National Philatelic Exhibition was held in Timaru between the 16th and 18th of October 2009.

The miniature sheets features 50 cent, $1 and $2.50 stamps from the 2008 Sir Edmund Hillary issue and the 1994 Mount Cook Definitive stamp pre-cancelled and marked 'SPECIMEN'. The $20 stamp was gold foiled but unlike the original, was printed by offset lithography. The $20 stamp was not valid for postage.

$2.50 from the sale price of each miniature sheet was donated by New Zealand Post to the Philatelic Trust.
If you have any questions or comments please contact us - we'd love to hear from you.
This page was last updated on 30 Sep 2023
All content and images copyright © 2008 - 2023 StampsNZ