1923 Map Stamp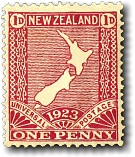 In 1923 the New Zealand Government decided that it was time to restore universal penny postage following its suspension in 1915. The map stamp was issued to commemorate this. Strangely, however, the one penny dominion remained on sale and continued to be used after the map stamp was withdrawn from sale.

The map stamp was the first and only stamp impression to appear preprinted on postal stationery until the 1980s.
If you have any questions or comments please contact us - we'd love to hear from you.
This page was last updated on 21 Oct 2021
All content and images copyright © 2008 - 2021 StampsNZ