1929 Health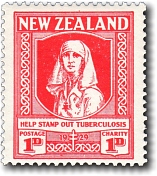 Cat.
Mint Unhinged
Mint Hinged
Fine Used
1d
Nurse - 'Help Stamp Out Tuberculosis'
39a
$49.50
$31.50
$31.50
First Day Cover - 11 December 1929
39b
$720.00
... 1d (39a)
New Zealand Health stamps were adapted from the Christmas seal system adopted by Scandinavian countries. However, it was decided to release a special stamp with a surcharge to support sanatoria or similar health projects.

The first health stamp bears the inscription "help stamp out tuberculosis" and 1929 is inscribed around the cross of Lorraine - the emblem of the International Anti-Tuberculosis Societies.

The nurse is in uniform for the period, wearing the brooch and star insignia of the New Zealand Registered Nurse Association.

The nurse image was drawn by L C Mitchell and the staff of the Government Printing Office designed the stamp frame and printed the stamp.

Nearly 600,000 copies of the stamp were sold.
If you have any questions or comments please contact us - we'd love to hear from you.
This page was last updated on 17 Oct 2021
All content and images copyright © 2008 - 2021 StampsNZ