1931 Airmails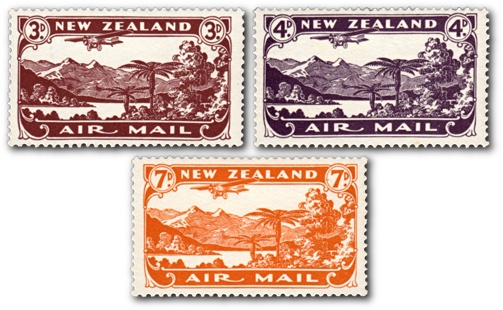 Cat.
Mint Unhinged
Mint Hinged
Fine Used
3d
Chocolate Brown (Simplified)
42a
$135.00
$36.00
$25.20
(i) Perf 14 x 14½ (Issued 1931)
42a1
$144.00
$40.50
$27.00
(ii) Perf 14 x 15 (Issued 1935)
42a2
$342.00
$270.00
$900.00
4d
Purple / Violet
42b
$139.50
$40.50
$31.50
7d
Light Brown
42c
$144.00
$49.50
$31.50
Set of 3
42d
$397.60
$119.70
$83.80
First Day Cover - 10 November 1931
42e
$1,800.00
… Three Stamps : 3d (42a), 4d (42b), 7d (42c)
Airmail stamps may have been issued sooner if early postal delivery trials by air within New Zealand had been more successful. However, in 1922 it was concluded that the aircraft in use were unsuited to long distance flights and the trial service was not well patronised by the public.

It was overseas developments which prompted the 1931 issue. At the Universal Postal Union Convention in 1929, an international agreement was drawn up where mail that was posted in New Zealand could utilise airmail services in Australia, Canada, North America and the Karachi-London service. This agreement came into force in July 1930.

Surcharging the threepence King George V stamp for airmail services was considered but this was abandoned in favour of a new issue for mail flown over part of its route abroad.
Bibliography
The Postage Stamps of New Zealand (Volume I)
Edited by R. J. G. Collins and H. T. M. Fathers B.A. B.Sc.
Published 1938 by The Philatelic Society of New Zealand Incorporated
If you have any questions or comments please contact us - we'd love to hear from you.
Wishing you a Merry Christmas and a Happy and Prosperous New Year
This page was last updated on 02 Dec 2023
All content and images copyright © 2008 - 2023 StampsNZ