1931 Provisional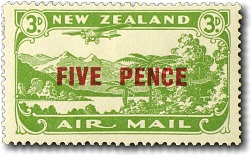 Cat.
Mint Unhinged
Mint Hinged
Fine Used
5d
Overprint on 3d Green
43a
$70.20
$37.80
$31.50
First Day Cover - 18 December 1931
43b
$6,300.00
… 5d (43a)
A series of internal airmail flights were planned within New Zealand in December 1931 with a special fee of 3d in addition to the standard 2d postage rate. To make up the combined postage rate, a red surcharge was overprinted on a special printing of the 3d air mail stamp in a new colour.
Bibliography
The Postage Stamps of New Zealand Volume VIII
Edited by B. G. Vincent FRPSNZ
Published 1998 by The Royal Philatelic Society of New Zealand Incorporated (ISSN 0-9597883-1-X)
If you have any questions or comments please contact us - we'd love to hear from you.
This page was last updated on 26 Sep 2023
All content and images copyright © 2008 - 2023 StampsNZ