1934 Trans Tasman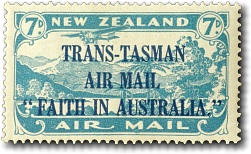 In 1934 the last airmail stamp in the 1931 Airmail design was printed, this time in blue with TRANS-TASMAN AIR MAIL "FAITH IN AUSTRALIA" over-printed on it.

This stamp was issued for one month to commemorate C.T.P. Ulm's first official trans-Tasman airmail flight from New Zealand to Australia. Only 83 thousand stamps were issued but many were collected.
If you have any questions or comments please contact us - we'd love to hear from you.
This page was last updated on 29 Nov 2021
All content and images copyright © 2008 - 2021 StampsNZ