1933 Health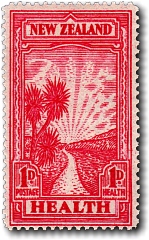 Cat.
Mint Unhinged
Mint Hinged
Fine Used
1d
Pathway to Health
47a
$54.00
$27.00
$31.50
First Day Cover - 8 November 1933
47b
$360.00
… 1d (47a)
The 1933 Health stamp was intended to depict a winding path leading through sand dunes to a beach as the sun broke through early morning cloud - the 'Pathway to Health'. Unfortunately, the suns rays were shortened and the etching process produced incomplete lines in some positions on the plate which disrupted the intended cloud pattern.

Around 261,000 of these stamps were sold.
Bibliography
The Postage Stamps of New Zealand (Volume I)
Edited by R. J. G. Collins and H. T. M. Fathers B.A. B.Sc.
Published 1938 by The Philatelic Society of New Zealand Incorporated
If you have any questions or comments please contact us - we'd love to hear from you.
This page was last updated on 30 Sep 2023
All content and images copyright © 2008 - 2023 StampsNZ