1933 Arms Postal Fiscal Officials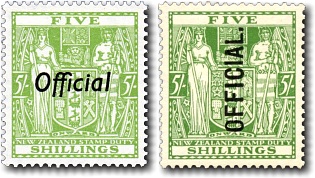 Cat.
Mint Unhinged
Mint Hinged
Fine Used
5/-
Horizontal Overprint (from 1938 on)
46a
$50.40
$41.40
$19.80
(i) Vertical Overprint
46a1
$1,080.00
$720.00
$828.00
The five shilling fiscal stamp was vertically overprinted 'Official' for government department use. All official stamps were postally used.

From December 1938, the stamp was overprinted horizontally.
Bibliography
The Postage Stamps of New Zealand Volume II
Edited by R. J. G. Collins FRPSNZ and C. W. Watts FRPSNZ
Published 1950 by The Royal Philatelic Society of New Zealand Incorporated
If you have any questions or comments please contact us - we'd love to hear from you.
This page was last updated on 26 Sep 2023
All content and images copyright © 2008 - 2023 StampsNZ