1964 Provisional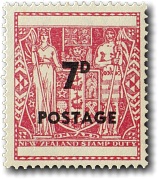 Cat.
Mint Unhinged
Mint Hinged
Fine Used
7d
Arms Overprint
130a
$1.55
$0.90
$1.80
First Day Cover - 14 December 1964
130b
$4.50
… 7d (130a)
When airmail postage rates increased from 6d to 7d there was no stamp in the 1960 Definitives issue to cover this rate - the 7d Definitive not being issued until 1966. To fill the gap, the 1931 Arms Postal Fiscals die was used with no value printed in the panels at the top and bottom, but with 7d overprinted in black. The 1965 Sir Winston Churchill - Commonwealth Day commemorative also helped span the gap until 1966.

The bulk of used stamps left the country and so this stamp is rarer used than mint.
Bibliography
The Postage Stamps of New Zealand Volume VI
Edited by D. E. G. Naish FRPSNZ and K. J. McNaught FRPSNZ FRPSL
Publsihed 1975 by The Royal Philatelic Society of New Zealand Incorporated
If you have any questions or comments please contact us - we'd love to hear from you.
Wishing you a Merry Christmas and a Happy and Prosperous New Year
This page was last updated on 09 Dec 2023
All content and images copyright © 2008 - 2023 StampsNZ