1972 Lake Scenes

Cat.
Mint Unhinged
Fine Used
6c
Lake Waikaremoana
188a
$1.80
$1.80
8c
Lake Hayes
188b
$2.25
$2.25
18c
Lake Wakatipu
188c
$4.50
$4.50
23c
Lake Rotomahana with a Sage Green border
188d
$4.50
$4.50
(i) with a Yellow Olive border
188d1
$90.00
$85.00
Set of 4
188e
$12.40
$12.40
First Day Cover - 6 December 1972
188f
$13.50
… Four Stamps : 6c (188a), 8c (188b), 18c (188c), 23c (188d)
The lake scenes issue featured photos from the library of the Tourist and Publicity Department of two North Island and two South Island lakes. It is interesting to note that in the 18 cent stamp of Lake Wakatipu the lake is actually behind the photographer, the mountains in the background are the 'Remarkables' and the angler is in fact fishing in the Kawarau River.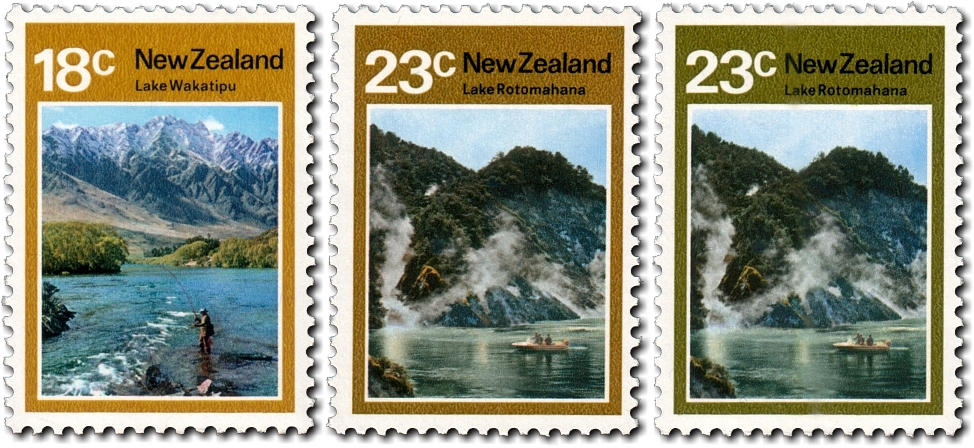 A startling and rare colour variety of the 23 cent stamp exists with a border colour half way between the correct Sage Green colour and the Ochre colour of the 18 cent stamp - shown in the middle in the photo above. The stamps were printed in four-colour photogravure by Courvoisier of Switzerland and the variety is possibly a missing colour.
Bibliography
The Postage Stamps of New Zealand Volume VI
Edited by D. E. G. Naish FRPSNZ and K. J. McNaught FRPSNZ FRPSL
Publsihed 1975 by The Royal Philatelic Society of New Zealand Incorporated
If you have any questions or comments please contact us - we'd love to hear from you.
Wishing you a Merry Christmas and a Happy and Prosperous New Year
This page was last updated on 06 Dec 2023
All content and images copyright © 2008 - 2023 StampsNZ