1974 Commonwealth Games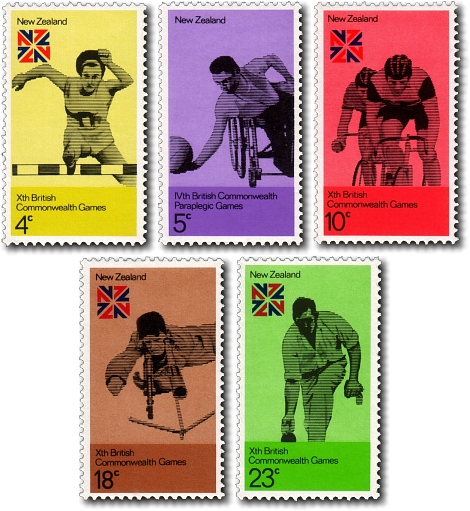 Cat.
Mint Unhinged
Fine Used
4c
Women's Hurdles
195a
$0.45
$0.45
5c
Men's Paraplegic Basketball
195b
$0.45
$0.45
10c
Cycling
195c
$0.45
$0.45
18c
Rifle Shooting
195d
$1.35
$1.35
23c
Men's Lawn Bowls
195e
$2.25
$2.25
Set of 5 individual stamps
195f
$4.70
$4.70
First Day Cover - 9 January 1974
195g
$4.50
… 4c (195a), 5c (195b), 10c (195c), 18c (195d), 23c (195e)
This issue commemorates the 10th British Commonwealth Games held in Christchurch with the exception of the 5 cent stamp which commemorates the 4th Paraplegic Games held in Dunedin in 1974.

The Commonwealth Games were held from January 24 to February 2. Following the massacre of Israeli athletes at the 1972 Munich Olympics, the Commonwealth Games in Christchurch was the first multi-sport event that placed the safety of participants and spectators above all else. Security guards surrounded the athlete's village - which are now halls of residence on the University of Canterbury campus - and there was an exceptionally high-profile police presence. Despite the precautions, the games went without hitch and were called "the friendly games".

Nine sports were featured with 1,276 athletes competing in athletics, badminton, boxing, cycling, lawn bowls, shooting, swimming and diving, weightlifting and wrestling.
Bibliography
The Postage Stamps of New Zealand Volume VI
Edited by D. E. G. Naish FRPSNZ and K. J. McNaught FRPSNZ FRPSL
Publsihed 1975 by The Royal Philatelic Society of New Zealand Incorporated
If you have any questions or comments please contact us - we'd love to hear from you.
This page was last updated on 26 Sep 2023
All content and images copyright © 2008 - 2023 StampsNZ