1975 Christmas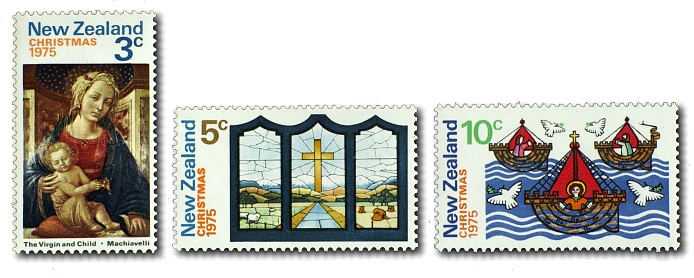 Cat.
Mint Unhinged
Fine Used
3c
'The Virgin and Child' by Machiavelli
206a
$0.45
$0.45
5c
Stained Glass Window from Methodist / Presbyterian Church, Greendale
206b
$0.45
$0.45
10c
'I saw three ships go sailing by'
206c
$1.15
$1.15
Set of 3 individual stamps
206d
$1.95
$1.95
First Day Cover - 1 October 1975
206e
$4.25
… 3c (206a), 5c (206b), 10c (206c)
The 3 cent stamp features 'The Virgin and Child' by the Italian painter Zanobi di Jacopo di Piero Machiavelli which is currently owned by the Dunedin Art Gallery.

The 5 cent stamp features a stained glass window from the Combined Methodist and Presbyterian Church in Greendale, Canterbury.

The 10 cent stamp has a graphic design based on the carol 'I Saw Three Ships Go Sailing By', a popular 17th century Christmas carol from England. The doves symbolise peace and are not referred to in the carol.
Bibliography
The Postage Stamps of New Zealand Volume VIII
Edited by B. G. Vincent FRPSNZ
Published 1998 by The Royal Philatelic Society of New Zealand Incorporated (ISSN 0-9597883-1-X)
If you have any questions or comments please contact us - we'd love to hear from you.
This page was last updated on 30 Sep 2023
All content and images copyright © 2008 - 2023 StampsNZ