1977 Postafix Provisionals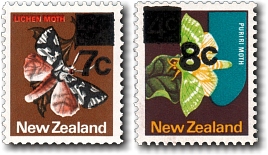 Cat.
Mint Unhinged
Fine Used
7c
Overprinted on 3 cent Lichen Moth
216a
$0.65
$0.65
8c
Overprinted on 4 cent Puriri Moth
216b
$0.65
$0.65
Set of 2 individual stamps
216c
$1.25
$1.25
First Day Cover - 18 April 1977
216d
$135.00
… 7c (216a)
First Day Cover - 21 April 1977
216e
$135.00
… 8c (216b)
With the introduction of the 1975 Pictorials / Definitives stamp issue, the Post Office found that the new stamps were too large to fit in automatic stamp-affixing machines - such as the Postafix machine by Data Link Co, California.

The 1978 Coil Stamps solved this problem, but as an interim solution, supplies of the 1970 Definitives / Pictorials 3 cent and 4 cent moth stamps were overprinted by the Government Printing Office with 7 cent and 8 cent denominations and made up into rolls of 400 stamps.

Some very crude forgeries of the 7 cent overprint were discovered by stamp collectors shortly after this issue was released - the intention apparently being to defraud the New Zealand Post Office of four cents revenue rather than fool collectors. They can be easily identified as the '7' surcharge is considerably smaller than on the valid stamp and the ink is dull compared to the gloss of the Post Office issue.
Bibliography
The Postage Stamps of New Zealand Volume VIII
Edited by B. G. Vincent FRPSNZ
Published 1998 by The Royal Philatelic Society of New Zealand Incorporated (ISSN 0-9597883-1-X)
If you have any questions or comments please contact us - we'd love to hear from you.
This page was last updated on 28 Sep 2023
All content and images copyright © 2008 - 2023 StampsNZ