1986 Scenic Coasts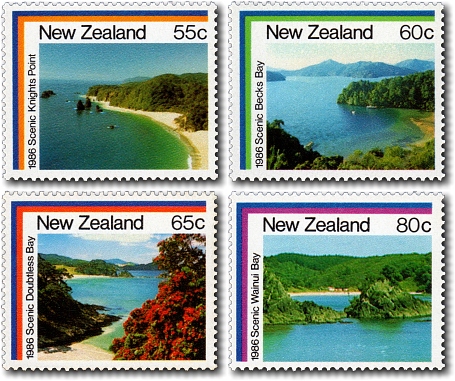 Cat.
Mint Unhinged
Fine Used
55c
Knights Point, West Coast
282a
$1.25
$1.25
60c
Beck's Bay, Marlborough Sounds
282b
$1.35
$1.35
65c
Doubtless Bay, Northland
282c
$1.45
$1.45
80c
Wainui Bay, Northland
282d
$1.80
$1.80
Set of 4 individual stamps
282e
$5.55
$5.55
$1.20
Miniature Sheet with one 80 cent stamp (Surcharged to support exhibition) - 1990 World Philatelic Exhibition Auckland
282f
$3.60
$3.60
… One Stamp : 80c (282d)
First Day Cover - 11 June 1986
282h
$4.25
… 55c (282a), 60c (282b), 65c (282c), 80c (282d)
Silk First Day Cover - 11 June 1986
282i
$13.50
… 55c (282a), 60c (282b), 65c (282c), 80c (282d)
Miniature Sheet First Day Cover - 11 June 1986
282j
$4.25
… $1.20 (282f)
Silk Miniature Sheet First Day Cover - 11 June 1986
282k
$12.15
… $1.20 (282f)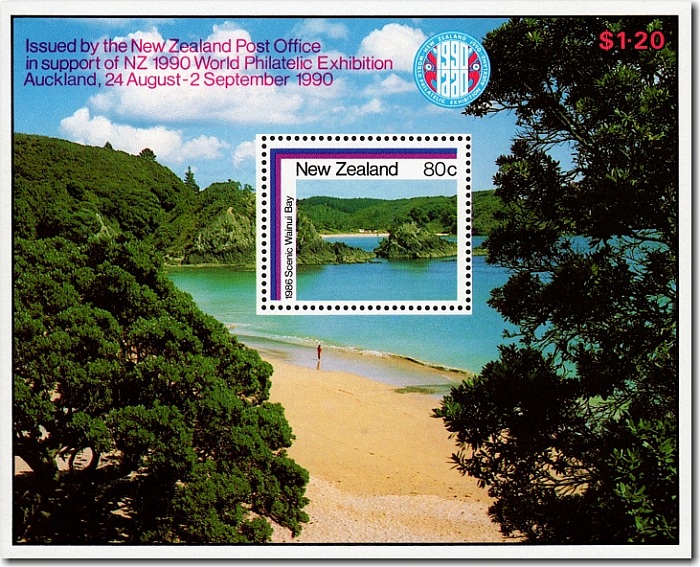 This miniature sheet with the 80 cent Wainui Bay stamp was issued with some of the proceeds going to support the New Zealand 1990 World Philatelic Exhibition.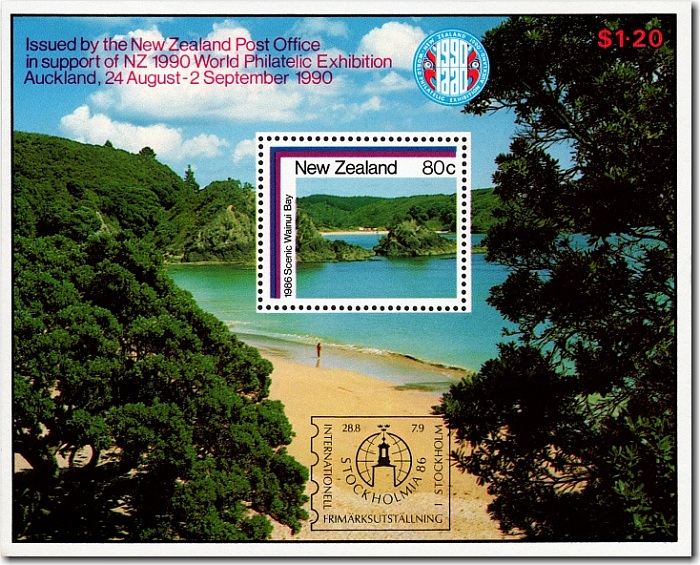 The miniature sheet was also issued with the Stockholmia '86 overprint to celebrate New Zealand Post's attendance at the Stockholmia '86 World Philatelic Exhibition in Stockholm, Sweden. This miniature sheet is listed under 1986 Stockholmia Exhibition.
If you have any questions or comments please contact us - we'd love to hear from you.
This page was last updated on 30 Sep 2023
All content and images copyright © 2008 - 2023 StampsNZ