1988 Australian Bicentenary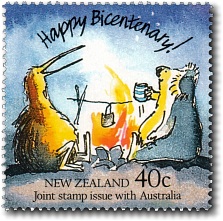 Cat.
Mint Unhinged
Fine Used
40c
Camp Fire Kiwi and Koala
302a
$0.90
$0.90
First Day Cover - 21 June 1988
302b
$4.25
… 40c (302a)
Silk First Day Cover - 21 June 1988
302c
$6.30
… 40c (302a)
First Day Cover - 21 June 1988 - Joint Issue with Australian stamp
302d
$4.25
… 40c (302a)
This stamp was designed by Melbourne artist Roland Harvey to mark the 200th year of European settlement in Australia and issued both in New Zealand and Australia.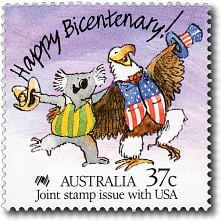 Australia Post also issued a 37 cent joint issue stamp with the United States of America with a design along similar lines.
Bibliography
The Postage Stamps of New Zealand Volume VIII
Edited by B. G. Vincent FRPSNZ
Published 1998 by The Royal Philatelic Society of New Zealand Incorporated (ISSN 0-9597883-1-X)
If you have any questions or comments please contact us - we'd love to hear from you.
This page was last updated on 28 Sep 2023
All content and images copyright © 2008 - 2023 StampsNZ