Cat.
Mint Unhinged
Fine Used
45c
Cycling (Simplified)
353a
$0.80
$0.80
(i) Perf 13½
353a1
$0.80
$0.75
(ii) Perf 14 x 14¼ from the miniature sheet
353a2
$1.00
$0.95
80c
Archery (Simplified)
353b
$1.45
$1.45
(i) Perf 13½
353b1
$1.45
$1.35
(ii) Perf 14 x 14¼ from the miniature sheet
353b2
$1.60
$1.70
$1
Equestrian (Simplified)
353c
$1.80
$1.80
(i) Perf 13½
353c1
$1.80
$1.80
(ii) Perf 14 x 14¼ from the miniature sheet
353c2
$1.95
$2.05
$1.50
Sailboarding (Simplified)
353d
$2.70
$2.70
(i) Perf 13½
353d1
$2.70
$2.70
(ii) Perf 14 x 14¼ from the miniature sheet
353d2
$2.90
$3.05
Set of 4 individual stamps
353e
$6.40
$6.40
$3.75
Miniature Sheet with one 45 cent, one 80 cent, one $1 and one $1.50 stamp
353f
$7.65
$7.65
... Four Stamps : 45c (353a2), 80c (353b2), $1 (353c2), $1.50 (353d2)
First Day Cover - 13 May 1992
353g
$5.10
... 45c (353a1), 80c (353b1), $1 (353c1), $1.50 (353d1)
Miniature Sheet First Day Cover - 13 May 1992
353h
$9.90
... $3¾ (353f)
This issue commemorated the 1992 Summer Olympic Games (the Games of the XXV Olympiad) which were held in Barcelona, Catalonia, Spain. This was the first Olympics that South Africa was allowed to compete in after a long suspension for their apartheid policy and the first Olympics that a reunified Germany and dissolved Soviet Union competed in.
New Zealand was represented by 145 athletes and 70 officials:Barbara Kendall won a gold medal in the women's windglider individual sailing competition.Danyon Loader won a Silver medal in the men's 200 metres butterfly swimming.Vicki Latta, Andrew Nicholson, and Blyth Tait won Silver medals in the three-day mixed team equestrian competition.Leslie Egnot and Jan Shearer won silver medals in the women's 470 team sailing competition.Don Cowie and Rod Davis won silver in the men's star team sailing competition.
A competition to design an Olympic stamp was won by Sheryl McCammon of Invercargil. This stamp was issued a month earlier and is listed separately under the
1992 Olympic Design A Stamp Competition Winner
issue.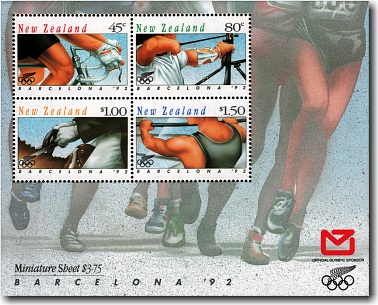 A miniature sheet incorporating all four stamps in this issue was sold publicly while a commemorative overprint for the World Columbian Stamp Expo was available only from the show and the New Zealand Philatelic Bureau. The overprinted miniature sheet is listed separately under
1992 Columbian Stamp Expo
.