1998 Cats / Year of the Tiger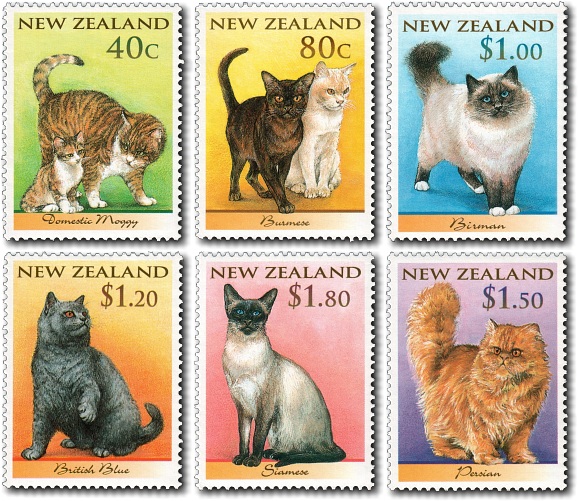 Cat.
Mint Unhinged
Fine Used
40c
Domestic Moggy
460a
$0.70
$0.70
80c
Burmese
460b
$1.45
$1.45
$1
Birman
460c
$1.80
$1.80
$1.20
British Blue
460d
$2.15
$2.15
$1.50
Persian
460e
$2.70
$2.70
$1.80
Siamese
460f
$3.25
$3.25
Set of 6
460g
$11.45
$11.45
$3.20
Miniature Sheet with one 40 cent, one $1 and one $1.80 stamp
460h
$8.10
$8.10
… Three Stamps : 40c (460a), $1 (460c), $1.80 (460f)
First Day Cover - 11 February 1998
460i
$10.20
… Six Stamps : 40c (460a), 80c (460b), $1 (460c), $1.20 (460d), $1.50 (460e), $1.80 (460f)
Miniature Sheet First Day Cover - 11 February 1998
460j
$8.10
… $3.20 (460h)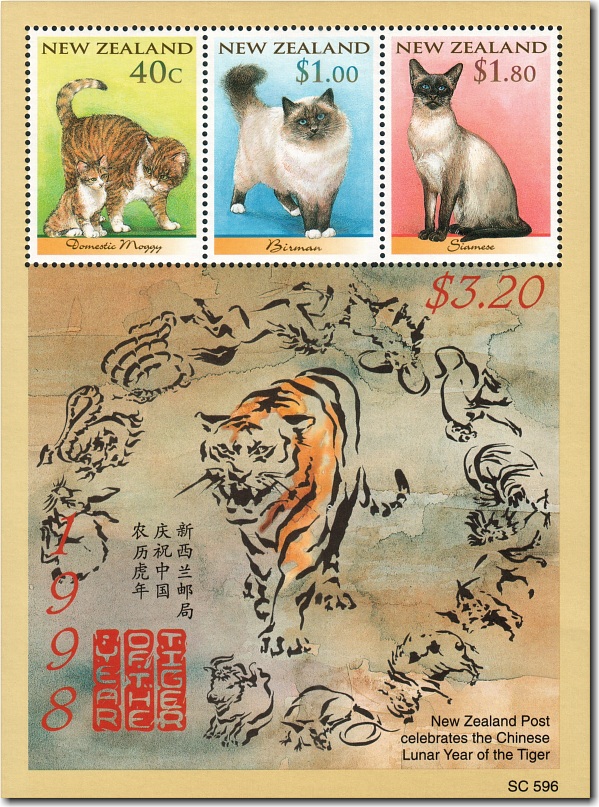 The miniature sheet commemorates 1998 as the Chinese Lunar Year of the Tiger.
Bibliography
The Postage Stamps of New Zealand Volume X
Edited by B.G. Vincent FRPSNZ
Published 2013 by The Royal Philatelic Society of New Zealand Incorporated (ISBN 978-0-9876534-3-7)
If you have any questions or comments please contact us - we'd love to hear from you.
Wishing you a Merry Christmas and a Happy and Prosperous New Year
This page was last updated on 09 Dec 2023
All content and images copyright © 2008 - 2023 StampsNZ