2001 Marine Reptiles / Year of the Snake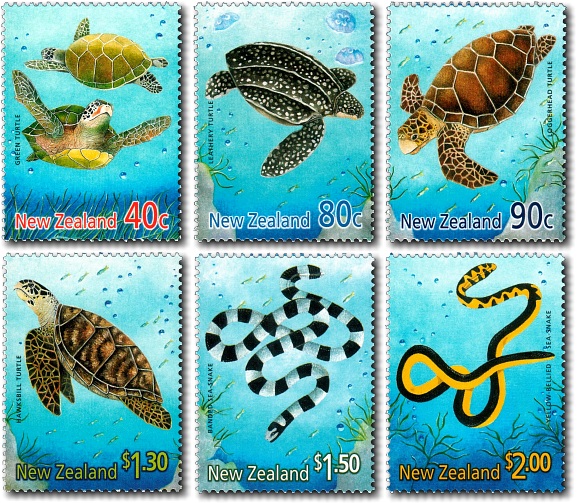 Cat.
Mint Unhinged
Fine Used
40c
Green Turtle
516a
$0.70
$1.05
80c
Leathery Turtle
516b
$1.45
$2.25
90c
Loggerhead Turtle
516c
$1.60
$2.70
$1.30
Hawksbill Turtle
516d
$2.35
$3.60
$1.50
Banded Sea-Snake
516e
$2.70
$3.85
$2
Yellow Bellied Sea-Snake
516f
$3.60
$5.10
Set of 6
516g
$11.80
$17.60
$3.50
Year of the Snake Miniature Sheet with one $1.50 and one $2 stamp
516h
$6.30
$9.45
… Two Stamps : $1.50 (516e), $2 (516f)
First Day Cover - 1st February 2001
516i
$10.20
… Six Stamps : 40c (516a), 80c (516b), 90c (516c), $1.30 (516d), $1.50 (516e), $2 (516f)
Miniature Sheet First Day Cover - 1st February 2001
516j
$6.80
… Two Stamps : $1.50 (516e), $2 (516f)
Commemorating the Year Of the Snake in the Chinese Lunar Calendar proved more troublesome than other years as New Zealand does not have any indigenous snakes to feature. However, a rather ingenious twist was added by featuring tropical and sub-tropical sea reptiles which have been known to visit the northern-most parts of the country. Even then, most sightings are reported at sea either caught in fishing nets or found sick or injured near the shore - in fact there have only been just over a handful of reported sightings of the Banded Sea-Snake since 1880.

The turtles featured on these stamps are all found in the tropics near coral reefs or in shallow bays and lagoons. The sea snakes are believed relatives of Australian land snakes. They are venomous but most bites occur on fishing trawlers.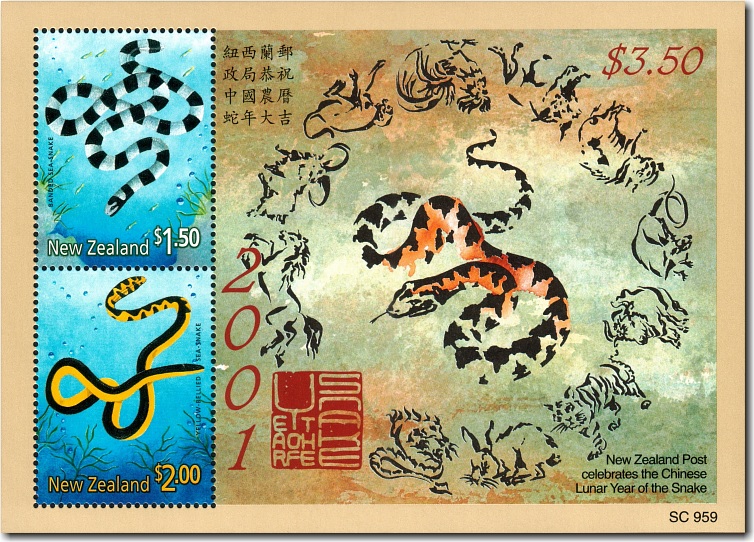 A special miniature sheet was issued incorporating the two sea-snake stamps to commemorate the Year of the Snake.
Bibliography
The Postage Stamps of New Zealand Volume X
Edited by B.G. Vincent FRPSNZ
Published 2013 by The Royal Philatelic Society of New Zealand Incorporated (ISBN 978-0-9876534-3-7)
If you have any questions or comments please contact us - we'd love to hear from you.
Wishing you a Merry Christmas and a Happy and Prosperous New Year
This page was last updated on 02 Dec 2023
All content and images copyright © 2008 - 2023 StampsNZ