2001 One Hundred Years of Moving the Mail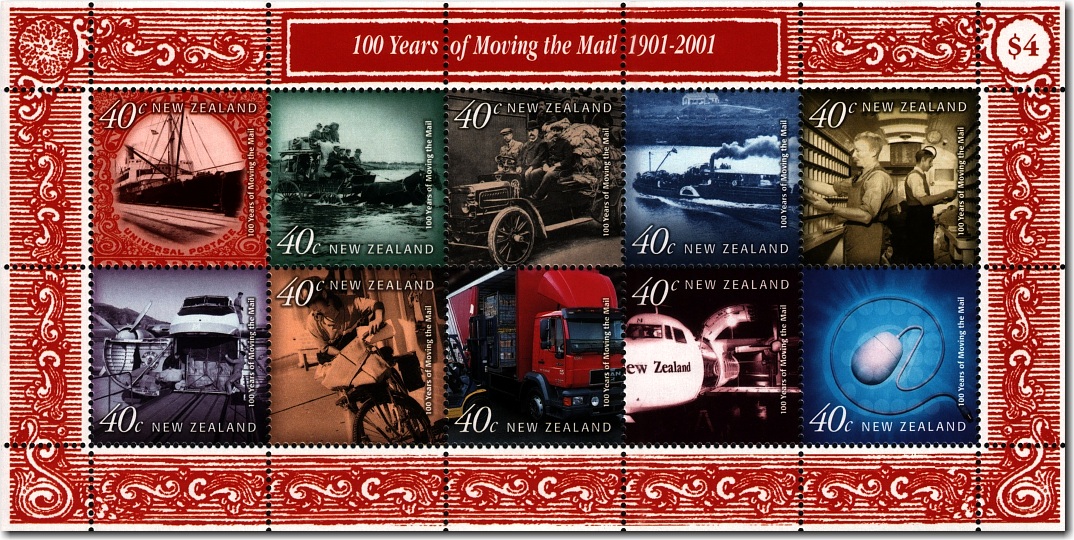 Cat.
Mint Unhinged
Fine Used
40c
Penny Universal Postage
515a
$1.10
$1.10
40c
Horsedrawn Coach
515b
$1.10
$1.10
40c
Early Motor Transport
515c
$1.10
$1.10
40c
Paddle Steamer
515d
$1.10
$1.10
40c
Railway Travelling Post Office
515e
$1.10
$1.10
40c
Air Freight
515f
$1.10
$1.10
40c
Bicycles
515g
$1.10
$1.10
40c
Modern Motor Transport
515h
$1.10
$1.10
40c
Air Transport
515i
$1.10
$1.10
40c
Internet Mail
515j
$1.10
$1.10
Set of 10 individual stamps
515k
$10.45
$10.45
$4
Sheetlet of ten 40 cent stamps
515l
$11.25
$11.25
… Ten Stamps : 40c (515a), 40c (515b), 40c (515c), 40c (515d), 40c (515e), 40c (515f), 40c (515g), 40c (515h), 40c (515i), 40c (515j)
First Day Cover - 1st January 2001
515n
$12.75
… 40c (515a), 40c (515b), 40c (515c), 40c (515d), 40c (515e), 40c (515f), 40c (515g), 40c (515h), 40c (515i), 40c (515j)
This issue celebrated the start of the 21st Century with a collection of stamps depicting stamp delivery and processing technology over the previous 100 years starting with the 1901 Penny Universal stamp, which was issued on the first day of the 20th Century.

This was not the 100th anniversary of prepaid stamp delivery within New Zealand - the 1955 Stamp Centenary issue commemorated that. Indeed, the 150th anniversary was celebrated four years later with no less than three separate issues: 2005 150 Years of Stamps 1855 - 1905, 2005 150 Years of Stamps 1905 - 1955 and 2005 150 Years of New Zealand Stamps 1955 - 2005. This issue marks the 100th anniversary of Universal Penny Postage - one penny postal charges within New Zealand and to overseas addresses (to countries that would accept the mail). Penny postage was a very bold and far-sighted move at that time - effectively halving the cost of postage within New Zealand and reducing the cost of posting a letter to the United Kingdom from 6d to 1d. The move and the surrounding publicity quickly paid off and the increased volumes of mail offset the reduced revenue per letter within a year or two. Universal penny postage turned New Zealanders into a nation of letter writers.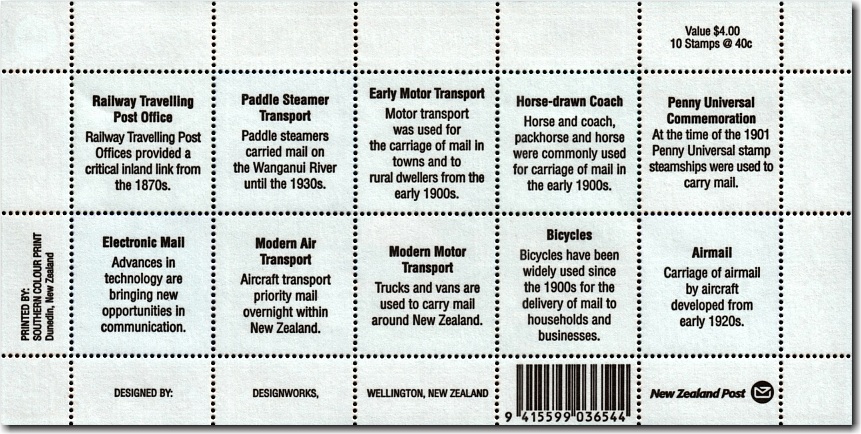 Printed on the reverse side of each stamp over the gum is a title and brief description.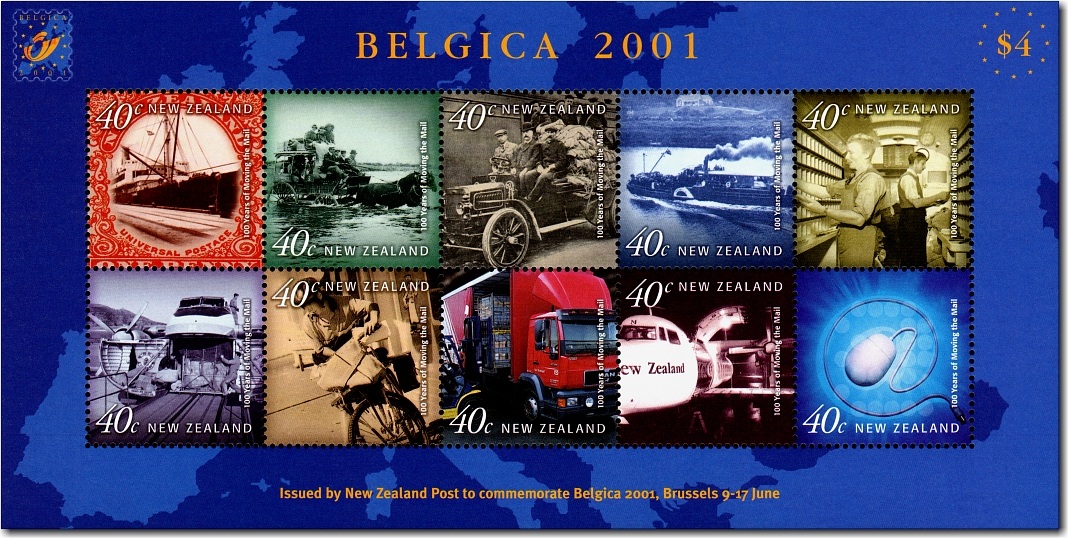 This sheetlet which sports a blue border and does not have the explanatory text printed on the gum-side was issued to commemorate the 'Belgica 2001' stamp exhibition which was held between the 9th of 17th of June, 2001. This sheetlet is catalogued separately under 2001 Belgica Exhibition.
Bibliography
The Postage Stamps of New Zealand Volume X
Edited by B.G. Vincent FRPSNZ
Published 2013 by The Royal Philatelic Society of New Zealand Incorporated (ISBN 978-0-9876534-3-7)
If you have any questions or comments please contact us - we'd love to hear from you.
This page was last updated on 30 Sep 2023
All content and images copyright © 2008 - 2023 StampsNZ