2004 Custom Advertising (CALs) / Personalised Postage Labels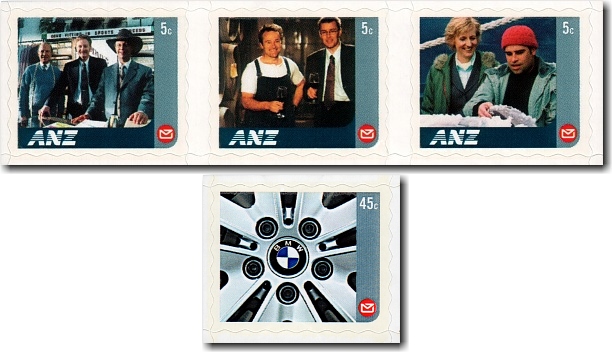 Cat.
Mint Unhinged
Fine Used
40c
Wellington Arts Festival (Self Adhesive)
589a
$3,375.00
5c
ANZ Bank / Haddad's Menswear (Self Adhesive)
589b
5c
ANZ Bank / Passage Rock Vineyard (Self Adhesive)
589c
5c
ANZ Bank / United Fisheries (Self Adhesive)
589d
45c
BMW Wheel (Self Adhesive)
589e
$360.00
Self Adhesive Se-tenant Strip of three 5 cent stamps - ANZ Bank
589f
$99.00
... Three Stamps : 5c (589b), 5c (589c), 5c (589d)
Personalised Postage labels give businesses the opportunity to personalise their marketing campaigns, invitations and everyday mail with an image they choose to represent their business identity. They have a red strip on the right hand side with the postage price and the New Zealand Post logo to identify that postage has been paid. This strip was coffee coloured or blue prior to September 2006.

Personalised Postage labels are not viewed as stamps by New Zealand Post. They do not carry the unique New Zealand Post fern identifier or the words 'New Zealand' and aren't available from PostShops. As they are not easily available they do not meet UPU regulations for a postage stamp.
If you have any questions or comments please contact us - we'd love to hear from you.
This page was last updated on 20 Sep 2021
All content and images copyright © 2008 - 2021 StampsNZ