2011 Rugby World Cup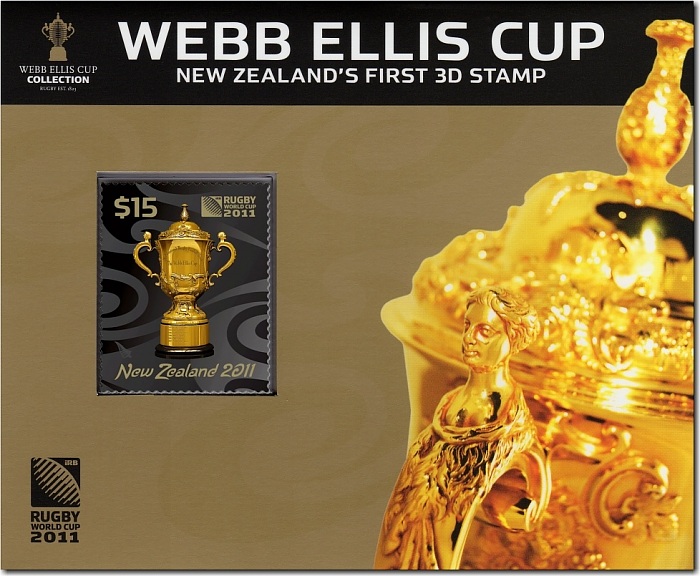 Cat.
Mint Unhinged
Fine Used
$15
Webb Ellis Cup 3-D Stamp
718a
$27.00
$27.00
$12
Rugby World Cup Participating Unions Prestige Sheet with twenty 60 cent stamps
718b
$90.00
… Twenty Stamps : 2010 Rugby World Cup 60c (698a1 x 20)
$12
All Blacks - Show Your Support Prestige Sheet with twenty 60 cent stamps
718c
$90.00
… Twenty Stamps : 2010 All Blacks 60c (696a1 x 20)
$11.40
All Blacks - Rugby World Cup 2011 Champions Prestige Sheet with six $1.90 stamps
718d
$90.00
… Six Stamps : 2010 All Blacks $1.90 (696b x 6)
First Day Cover - 7 September 2011
718e
$36.00
… $15 (718a)
The 2011 Rugby World Cup was the seventh Rugby World Cup contest and was hosted by New Zealand. This was the largest sporting event ever held in New Zealand and ran over six weeks starting on the 9th of September 2011.

The 'Rugby World Cup 2011 - Participating 20 Unions' sheetlet was issued ahead of the contest in June 2011 and features the logos of all the competing teams.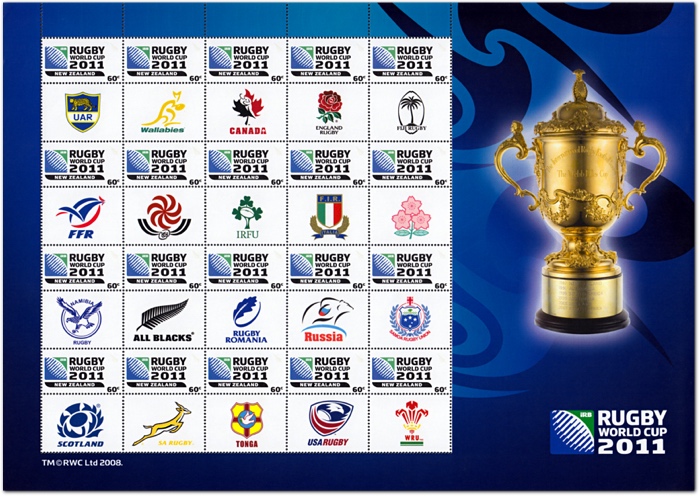 The 'All Blacks - Show Your Support' sheetlet was issued on the 1st of September 2011 as part of the World Cup merchandising at a considerable premium over face value. It features pictures of all members of the 2011 All Black team.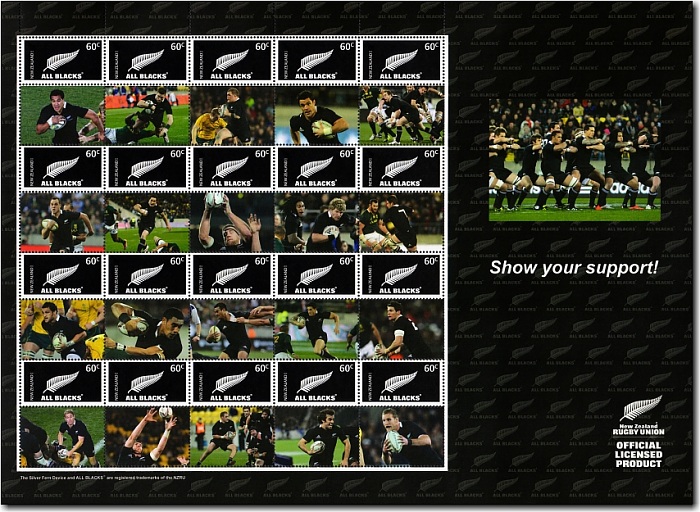 The tournament was won by New Zealand who defeated France 8 - 7 in the final which was played at Eden Park in Auckland on Sunday the 23rd of October 2011 - a date chosen because it fell on a New Zealand bank holiday weekend.

The 'All Blacks - Rugby World Cup 2011 Champions' sheetlet commemorates New Zealand winning the Ellis Cup and was very hastily printed after the World Cup final and on sale two days later.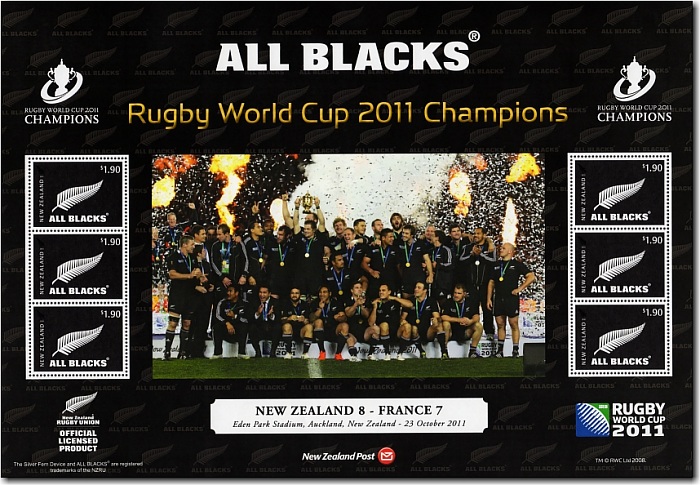 If you have any questions or comments please contact us - we'd love to hear from you.
This page was last updated on 26 Sep 2023
All content and images copyright © 2008 - 2023 StampsNZ