2012 Christchurch Philatelic Society Centennial and Exhibition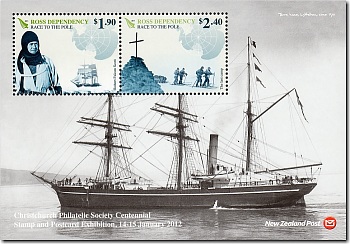 2011 marked the centennial of the Christchurch Philatelic Society, however plans for an exhibition in November 2011 had to be postponed due to earthquake damage at the chosen venue. The exhibition was held on the 14th and 15th of January and was themed around Robert F Scott's expedition to the South Pole which used Lyttelton and Christchurch as a base. The miniature sheet shows Scott's vessel, the Terra Nova in Lyttelton harbour.
If you have any questions or comments please contact us - we'd love to hear from you.
This page was last updated on 15 Aug 2022
All content and images copyright © 2008 - 2022 StampsNZ