1941 Health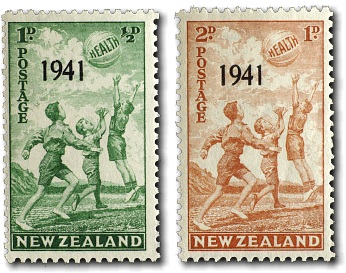 Cat.
Mint Unhinged
Mint Hinged
Fine Used
1d
1941 Overprint on Beachball - Dark Green
71a
$4.50
$3.60
$4.50
2d
1941 Overprint on Beachball - Brown
71b
$4.50
$3.60
$4.50
Set of 2
71c
$8.55
$6.85
$8.55
First Day Cover - 4 October 1941
71d
$54.00
… Two Stamps : 1d (71a), 2d (71b)
War time conditions made it imperative that stocks of paper be conserved and as sales of the 1940 Health stamps had been around 60 percent of the 1939 Health stamps the usual practice of destroying unsold stamps once the issue was withdrawn was considered wasteful. Instead the remaining stamps plus a small supplementary printing were overprinted 1941 - just so that the 1941 issue could be distinguished from the 1940 issue. There are slight differences in the intensity of the coloured inks used between the two printings with the stamps printed in 1941 having a deeper colour.
Bibliography
The Postage Stamps of New Zealand Volume II
Edited by R. J. G. Collins FRPSNZ and C. W. Watts FRPSNZ
Published 1950 by The Royal Philatelic Society of New Zealand Incorporated
If you have any questions or comments please contact us - we'd love to hear from you.
Wishing you a Merry Christmas and a Happy and Prosperous New Year
This page was last updated on 06 Dec 2023
All content and images copyright © 2008 - 2023 StampsNZ